Sherlock star Cumberbatch takes on Sesame Street challenge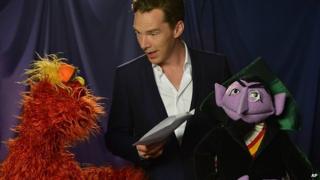 Sherlock star Benedict Cumberbatch has applied his TV sleuthing skills to a new challenge - counting fruit on US children's series Sesame Street.
The UK actor appears with a pair of Sesame Street Muppets in a video posted Tuesday on the PBS YouTube channel.
A furry character named Murray-arty asks him to work out whether there are more oranges or more apples laid out in front of him.
The guest star enlists show character Count Von Count to solve the riddle.
Murray-arty - a reference to the Sherlock Holmes villain Moriarty - announces he is Cumberbatch's "arch nemesis" and sets him the "brainbending challenge".
"Are there more apples or are there more oranges? I don't know, you're the super-sleuth, you figure it out," the Muppet says.
Cumberbatch points out he only portrays the detective and admits: "I'm not really Sherlock, I just play him on the television."
After being pressed to act like a super-sleuth he brings in The Count to solve the problem.
The film was recorded in January.