RSC double bill to commemorate WWI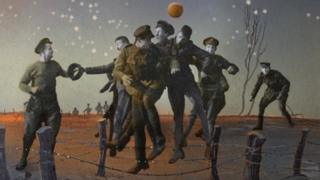 A double bill of Shakespeare comedies set "in the shadow of war" will form part of the Royal Shakespeare Company's World War One commemoration.
Both Love's Labour's Lost and Love's Labour's Won, usually known as Much Ado About Nothing, will be set in the same country house before and after the war.
Running from September 2014 until March 2015, they will also be broadcast live to cinemas and streamed into schools.
Real events on the Western Front have inspired new play The Christmas Truce.
Playwright Phil Porter will tell the story of soldiers who left their trenches on Christmas Eve 100 years ago to meet their enemies in No Man's Land, sharing gifts, conversation and a game of football.
The World War One commemorations at the Royal Shakespeare Theatre form part of the RSC's 2014 Winter season announced today.
Highlights at the Swan Theatre include a production of The Witch of Edmonton, starring Dame Eileen Atkins and directed by artistic director Gregory Doran.
The Jacobean domestic tragedy was written by Shakespeare's contemporaries Thomas Dekker, John Ford and William Rowley.
The Swan will also host Dekker's festive comedy The Shoemaker's holiday, and the world premiere of Tom Morton-Smith's new play Oppenheimer about "the father of the atom bomb", J Robert Oppenheimer.
Shakespeare's 450th birthday celebrations will be marked in April, with a special fireworks display.
"2014 is a year of important anniversaries," said RSC artistic director, Gregory Doran.
"We will kick off the Stratford celebrations of Shakespeare's 450th birthday with a fireworks display acknowledging Shakespeare as the Star of Poets," he said.
Doran revealed it was the fist time the Shakespeare comedies Love's Labour's Lost and Much Ado About Nothing had been paired.
"It's always struck me that these plays belong together and so strong is my sense that I am sticking my neck out to say that Much Ado About Nothing may also have been known as Love's Labour's Won in Shakespeare's lifetime," said Doran.
"We know he wrote a play under this name and scholars have debated whether it is indeed a 'lost work' or an alternative title to an existing play. To test my theory, Christopher Luscombe will direct both with a single company of actors."