Bake Off's Mary Berry named Oldie of the Year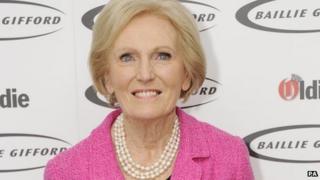 Great British Bake Off judge Mary Berry has been named Oldie of the Year at a ceremony in London.
The 78-year-old cookery writer received the main honour, while the broadcaster Nicholas Parsons was recognised for his longevity in show business.
Parsons, 90, won the Dorian Gray award, named after the Oscar Wilde character who remains perpetually youthful.
Actress Anne Reid, star of BBC series Last Tango in Halifax, was awarded the pin-up of the year prize.
The 78-year-old's character found wedded bliss with her childhood sweetheart in her later years.
Parsons has been the host of Radio 4 comedy programme Just a Minute for 46 years.
Other award recipients included former PM Sir John Major, named campaigner of the year, and Joan Woolard, a widow who took Barclays Bank executives to task after she was unable to use her credit card to pay for his funeral flowers.
This year's judges were Sir Terry Wogan, Channel 4 anchorman Jon Snow and broadcaster Libby Purves, alongside The Oldie magazine's founder Richard Ingrams.
Berry's Oldie of the Year predecessors include entertainer Barry Humphries, Sir David Attenborough and actress Joanna Lumley.