Muti to stay at Chicago Symphony Orchestra until 2020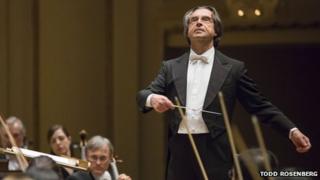 Italian conductor Riccardo Muti has extended his contract to stay on as musical director at the Chicago Symphony Orchestra until 2020.
"I love Chicago and I love making music with the extraordinary musicians," said the 72-year-old, who has been in the job since 2010.
"We have a symbiosis, a warm and unique way of working together," he added.
Muti has helped to build the CSO's audience with open rehearsals and free concerts in schools, parks and prisons.
More than 25,000 people attended his first annual free concert in Chicago's Millennium Park.
Announcing his second five-year contract, the conductor said he was "very glad" to be staying in the so-called Windy City, his "home away from home".
"The people here are very special, and their support of this fine orchestra is essential to its future," he said.
The CSO's international reputation has been boosted in recent years by tours, recordings and special projects like last year's live webcast of Verdi's Requiem, seen by 100,000 people worldwide.
It said its musicians were "ecstatic" that the "world-renowned maestro" would be staying on as their music director.
The new contract will require Muti to conduct 10 subscription weeks each season as well as recordings and to lead the orchestra's domestic and foreign tours.
Born in Naples, Muti came to prominence in 1967 when the jury for Milan's prestigious Guido Cantelli competition for conductors unanimously awarded him first place.
His previous roles include music director of the Philadelphia Orchestra between 1980 and 1992 and music director of La Scala from 1986 to 2005.