Blondie to collect honorary NME award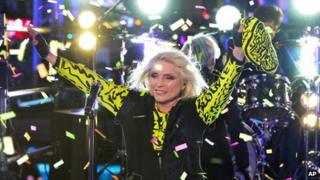 US band Blondie are to collect an award for their life's work at the NME Awards in London later this month.
The veteran group, who are celebrating their 40th year together, will receive the magazine's 'Godlike Genius' award at a ceremony on 26 February.
"It's out of proportion, but it's nice to be recognised," said lead singer Debbie Harry.
Arctic Monkeys are frontrunners for the awards with eight nominations, including best British band.
Previous recipients of NME's lifetime achievement accolade have been largely British and include Joy Division, Paul Weller and Smiths guitarist Johnny Marr.
"I find it particularly interesting that there aren't many Americans who've been given this award before, so that's flattering," added Harry.
NME's editor Mike Williams said the band had been chosen in their anniversary year, adding: "They rewrote the rule book in the late '70s by dragging punk rock to the top of the charts".
He called Harry, 68, "the most iconic front-woman rock 'n' roll has ever produced".
Blondie shot to fame in the late 1970s with a string of hits including Heart of Glass, Picture This and Hanging on the Telephone.
In 1999 the New York outfit scored a UK number one hit with Maria, almost 20 years after their previous chart-topper.
The band are due to perform at the NME awards ceremony in Brixton, south London.