Mark Thompson apologises over project failure at BBC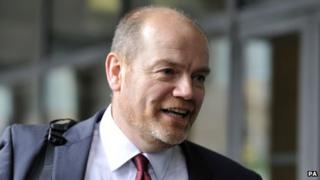 Former BBC director general Mark Thompson has said sorry for the £100m failure of the BBC's Digital Media Initiative (DMI).
Giving evidence to a committee of MPs, he said DMI "failed as a project, in a way that meant the loss of a lot of public money".
"I want to apologise to you and the public," he said.
He added there had been other larger, successful technological innovations at the BBC.
The Public Accounts Committee is examining why the efforts to move the BBC away from using video tape failed.
The gross estimate of the amount spent on DMI was £125.9m, although the net cost to the licence fee payer was estimated to be £98.4m.
A National Audit Office report said the BBC had hoped to save £98m in the long run through the new system - but in the end, the final estimate of the benefits it brought to the BBC was zero.
The report blamed the project's failure on confusion, a lack of planning and insufficient scrutiny.
In a statement published on the Public Accounts Committee's website, Ms Hodge wrote: "This report reads like a catalogue of how not to run a major programme.
"The BBC needs to learn from the mistakes it made and ensure that it never again spends such a huge amount of licence fee payers' money with almost nothing to show for it."
The BBC responded to the NAO report by saying it has now adopted new procedures for managing big projects. A BBC spokesman added on Monday the project was scrapped because "we didn't find anything that had enduring value and we decided from a prudent accounting perspective to write everything down to zero".
Mr Thompson, who was the director general of the BBC between 2004 and 2012, told committee chair Margaret Hodge he had not misled MPs over the failure of the DMI issue in earlier evidence.
He told MPs: "In my time, I thought great efforts were made by BBC Vision and BBC North to get DMI to work.
"I know there were tensions but I don't think in themselves they were the reason for the failure of the project."
Mr Thompson also said he "believed" what he was being informed about DMI at the time, adding his previous evidence on the matter, given in 2011, was a "faithful and accurate" account.
He said he had understood DMI technology was being used on programmes including The One Show, which had led him to the belief it was working well.
Anthony Fry, a former BBC Trustee, also said there was "no question that mistakes were made by the trust" over the issue.
"The total project, right the way through the BBC, was an embarrassment," he later added.
Zarin Patel, the corporation's former chief financial officer, also said sorry for the failure of DMI.
Dominic Coles, the BBC's director of operations, admitted the project was "appalling value for money" but was essential as a replacement for a system more than 40 years old.
He said: "This was a shocking waste of money - we are absolutely learning our lesson, we deliver huge projects really well."
He also offered an apology to the committee, and said the corporation had "learned its lessons" and they would "completely change" the way any successor to DMI would now be managed.
"We're chopping it into definable separate projects and looking to deliver those more cheaply and with more certainty," Mr Coles said.
Questioned about the DMI's failure, John Linwood, who was sacked from his job as its chief technician last July, said there was a "lack of engagement" from management in the project.
Mr Linwood also said the BBC missed a "first major milestone" in the project's development, when code previously developed by Siemens could not be used.
"We had to change our plan", he added, reiterating he "did not develop the business case for DMI" and was the project's technologist.
"I believed in it at the time," Mr Linwood told MPs, in reference to its business model for. "They've tried to pin [its failure] on technology," he added.
When asked whether current director general Lord Hall had written off far more of the project than he should have done, he answered "yes".
Mr Linwood - who was paid a salary of £280,000 - revealed in written evidence published by the Public Accounts Committee on 28 January 2014 that he was taking legal action against the BBC.
"I have issued legal proceedings against the BBC and intimated contractual claims, and am still involved in an internal process with the BBC," he wrote.
At the conclusion of the hearing, committee chair Ms Hodge said the project had been mired in a "jungle of bureaucracy" and "the BBC deserves better".
'I wanted to stay'
Earlier in proceedings, former BBC chief operating officer Caroline Thomson was quizzed over her pay-off, which amounted to £600,000 with a pension pot worth £2 million.
"I was made redundant, I didn't want to be made redundant. I wanted to stay and work," she said.
"I didn't set my pay, I never once asked for a pay rise, I did a very big responsible job, I could have earned a lot more at ITV or commercial sector," she said when asked if licence fee payers might question her settlement.
Ms Thomson, who continues to work in the public sector for the English National Ballet, added: "Thanks to the payment of the BBC, I don't have to earn as much money."