Oscars: Best song disqualification explained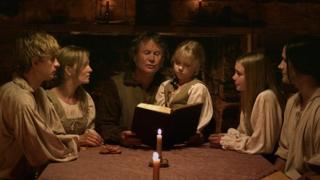 The Academy of Motion Picture Arts and Sciences has detailed the reasons why a contender for this year's best original song Oscar had its nomination revoked.
Bruce Broughton, it said, "undermine[d] the integrity of the voting process" by telling "at least 70" fellow Academy members he had composed the song.
"The nominating process for original song is intended to be anonymous," the Academy's statement continued.
Broughton, it said, "should have been more cautious" as an "Academy insider".
The title song to Christianity-themed film Alone Not Yet Alone had its nomination rescinded on Wednesday after it was decided Broughton's actions "were inconsistent with the Academy's promotional regulations".
Broughton, a former Academy Governor, said he was "devastated" by the decision, telling the Christian Post newspaper his character had been "besmirched and sullied".
The Academy's latest statement follows robust criticism of its actions from an Oscar-winning producer, who suggested the move had been motivated by "faith-based bigotry".
In a letter seen by the Hollywood Reporter, Schindler's List producer Gerald Molen said rescinding a nomination from a film with a Christian message would see the Academy accused of "needlessly offending middle America".
'Undue influence'
The Academy, however, insisted Broughton "took advantage of information that few other potential nominees are privy to" by telling members of its music branch that he composed Alone Not Yet Alone.
The composer, it continued, had acted "in a way that made it appear as if he were taking advantage of his position to exert undue influence", calling into question whether the voting process was "fair and equitable".
In his email, Broughton wrote to a number of music branch members to "boldly" direct their attention to "entry 57" on the DVD compilation they had been sent by the Academy.
The Academy said his actions contravened "a long-standing policy and practice... to prevent favouritism and promote unbiased voting".
The ousted track has not been replaced by another contender, leaving four compositions to compete for this year's best song award.
One of them, Let It Go, features in hit Disney animation Frozen, which boosted its Oscar chances on Saturday by winning top prize at this year's Annie Awards.
The film, an adaptation of Hans Christian Andersen's The Snow Queen, was named best animated feature on Saturday, one of five prizes it took home from the Los Angeles event marking the year's best achievements in animation.
More prizes were handed out on Saturday by the Writers Guild of America, which gave its main awards to futuristic romance Her and maritime drama Captain Phillips.
Spike Jonze's script for Her was named best original screenplay, with the best adapted screenplay accolade going to Billy Ray's script for Paul Greengrass's fact-based thriller.
TV shows Veep, Breaking Bad and House of Cards were also recognised by the guild at ceremonies held simultaneously in Los Angeles and New York.