Archers bosses 'rest' Ambridge Extra spin-off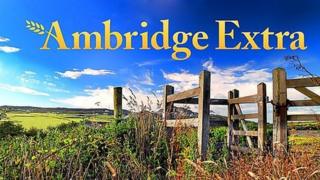 The Archers' digital spin-off show Ambridge Extra has been "rested" by bosses at BBC Radio 4 Extra.
The programme, which has run for short series once or twice a year since 2011 on Radio 4 Extra, focused on the soap's new or minor characters.
The network said the BBC had to make "tough financial choices" and needed to prioritise the content and services "delivering most value to audiences".
Ambridge Extra attracted around 250,000 listeners a week.
In contrast, The Archers draws an average weekly audience of five million.
"At the moment, we believe our limited resources are best used by focusing on the core purpose of the network," Radio 4 Extra commissioning editor Caroline Raphael wrote on The Archers' website.
"Our Ambridge Extra decision won't impact on The Archers in any way... and the decision not to go ahead with the Radio 4 Extra series this year doesn't mean we won't have Ambridge Extra return in the future."
'Tedious rubbish'
Reaction to the spin-off show was mixed from listeners. When it was first announced, programme makers had said regular listeners would not miss out if they did not follow the digital series.
However, many were unhappy last July when the climax to a long-running storyline - where Lilian Bellamy had been cheating on her husband with his brother - was played out on Ambridge Extra.
Reacting to Ms Raphael's announcement, one fan said: "RIP for a very long time. Tedious rubbish that had a terrible impact on the main show."
Another wrote: "I liked Ambridge Extra because it was able to take a deeper look at some of the minor characters by having fewer story lines and a smaller cast.
"I hope that R4 finds space for it somewhere sometime."
A BBC spokesman said Radio 4 Extra did not have "any current plans to run a series of this ad hoc programme".