British film-making sees decline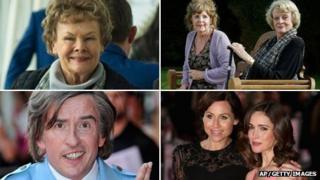 The number of British films being made has declined in the past few years, according to new figures.
In 2013, 62 British films with a budget over £500,000 were produced, compared with 87 in 2011, figures from the British Film Institute (BFI) showed.
The number of low-budget films being shot has also fallen.
The BFI said "a dip in production should not be confused with a decline in quality", adding that Hollywood studios were spending more in the UK.
In 2010 303 domestic UK feature films were made. The figure for 2011 was 264.
The BFI's 2013 statistics showed that last year's figure is expected to be under 200. The exact number is not yet known because some low-budget films have still to be counted.
"There is a time lag in collecting data for the films budgeted at less than £500,000," a BFI spokeswoman said.
Despite the decline in numbers, she said the UK film industry had a "creative confidence" with films like Philomena, The Selfish Giant and Rush attracting acclaim and awards success.
"Success breeds success and boosts confidence further," she added. "We know there are lots of exciting projects coming through so the signs are good."
The BFI's annual statistics said total investment in film-making in Britain rose from £945 million in 2012 to £1.07 billion last year.
This was thanks to Hollywood studios choosing the UK as the location for films like The Man from U.N.C.L.E. and Guardians of the Galaxy.
The BFI said tax reliefs had helped encourage Hollywood studios to film more productions in the UK.
Meanwhile, in an interview conducted before the BFI figures were released, writer Lee Hall told the BBC he believes it is becoming harder to make film dramas for the cinema or TV in the UK.
The Billy Elliot writer said the slots for single dramas on TV were "drying up", while mid-budget British movies were "becoming tougher and tougher to sell".
"It's a lot harder in Britain to make dramatic films now," he said.
In cinemas, he continued, the "middle ground" between superhero blockbusters and micro-budget productions was "getting increasingly barren".
"It's harder," Hall went on. "Everybody I talk to in the industry says the same thing, that it's [harder for] the middle ground of film.
"Traditionally, what we've done really well in Britain is becoming tougher and tougher to sell. It's harder to get that stuff made."
Previous BFI statistics have shown that just 7% of British films made a profit between 2003 and 2010, and that films with bigger budgets were more likely to turn a profit.