London theatres report record sales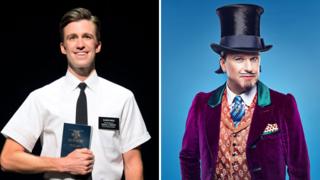 London theatres attracted record ticket sales in 2013, boosted in part by musicals such as The Book of Mormon and Charlie and the Chocolate Factory.
Attendances were up by 4% on the previous year to more than 14.5 million and sales rose 11% to just over £585.5m.
The average ticket price rose to £40.14 from £37.86 in 2012.
The figures were released on Wednesday by the Society of London Theatre (Solt).
Despite slightly fewer performances than the previous year, almost 600,000 more people attended the theatre in 2013.
Musicals and plays both enjoyed a 3% rise in attendances while other performance arts - including opera and dance - rose 12%.
Solt said that among the West End plays that had proved a big draw were The Audience, with Helen Mirren playing the Queen, and the Michael Grandage Company season which included star appearances from Dame Judi Dench, Jude Law, Daniel Radcliffe and David Walliams.
The Almeida's acclaimed productions of Ghosts and Chimerica both had West End runs, while long-running transfers such as One Man, Two Guvnors and Matilda The Musical continued to bring in audiences.
"I am delighted that we can announce a record year for London theatre attendances as well as a tenth year running of year-on-year growth in ticket income," said Sold president Mark Rubinstein.
"These figures pay testament to the quality, vibrancy and enduring popularity of the London stage, which, despite a difficult economic climate, continues to pull in the crowds thanks to the world-class entertainment on offer and inclusive pricing structures.
"With the combined box office advance sales also reaching new heights in December, we are looking forward to another year of success stories for our theatres in 2014," he added.
The Solt figures relate to the 52 major theatres, both commercial and grant-aided, in central London.