The ballet where men take centre stage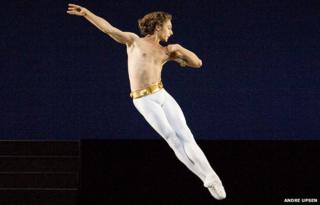 The Ukrainian-born dancer Ivan Putrov created Men in Motion at London's Sadler's Wells theatre in 2012. It's a varied collection of short dance pieces, seeking to redefine what the male dancer can do on stage. Now the show is returning to the challenge of an even bigger theatre.
Ivan Putrov says he's doing what too few dancers do in their early thirties - being realistic about maintaining a career in dance once the body's bones and ligaments start to protest at the endless physical shocks of a dancer's life.
"I've seen this so many times and honestly it can be tragic. Mostly dancers barely plan for what happens after 40. Possibly I have a decade of performing ahead of me. But when it all ends I will have my career as a dance producer."
The 33-year-old Ukrainian doesn't use the word impresario but he's already displaying a touch of the Diaghilev. For a dozen years he was a star at the Royal Ballet in London and it's clear he still loves dancing on stage.
But over the past couple of years his Men in Motion concept has attracted an impressive range of male dancers from major companies in Britain and elsewhere.
This week's shows at the 2,350-seat Coliseum in London feature the likes of Edward Watson, Vadim Muntagirov and Yonah Acosta (nephew of Carlos).
The Argentinian Daniel Proietto will join Putrov in choreographer Russell Maliphant's duet Two x Two.
The fact the pieces in the show are choreographed almost exclusively for men inevitably changes the dynamic from more traditional stagings.
Ivan Putrov is polite, slight and engaging. He's nobody's idea of a theatrical tyrant. So why has he taken on the endless headaches - and financial pressures - of building a new show based around a radically different approach to dance?
"I was born into a ballet family. Since I was a child theatre has been my way of expressing myself. Now I have found a new way of doing that through producing: Men in Motion is just one idea but I think this is the right time for it.
"Previously the role of the male dancer was very much to support the ballerina but that has been changing and what we are doing is part of that process." Putrov insists the idea is not to eliminate female dancers but to explore more deeply what men can do on stage.
Dramatic events
A couple of days before the first performance Putrov appears remarkably calm.
"I love the mystery of how things come together in the theatre. In most modern media the process is more transparent and so less interesting. The mystery of theatre is a large part of what keeps me going."
He's also excited at the variety of music to be used at the Coliseum - most of it played live.
There'll be new work performed by Dan Gillespie Sales of The Feeling, with choreography by Venezuelan choreographer Javier de Frutos. Recordings by Nina Simone and Johnny Cash feature too.
But there is also a full orchestra and choir and the evening will include choreography to classical pieces by Weber, Mozart and Stravinsky.
Ivan Putrov has been based in London for more than 15 years but he's aware of how much he was formed by his origins in Ukraine.
"When I was in Ukraine it was a very hard time for the country. No-one earned enough money and everything was falling apart about you.
"The country was discovering its new independence. But I believe art can help take a country through difficult times."
Most of Putrov's family is still in Ukraine so amid the massive amount of work needed for the new show has he been able to follow recent dramatic events there as opposing factions seek either closer ties to the EU or renewed links with Moscow?
"Yes of course - how could I not follow that? Through the centuries what is now known as Ukraine has survived all kinds of suppression, coming from Russia and at times from the West too.
"Its language was forbidden and people were punished - but the nation always survived. So in the long term I am optimistic.
"We all know the formula of Divide and Rule and we see that at work in my country now. But I think Ukraine will remain as one country. I believe every side will find answers for themselves and come to unity."
After that brief diversion into politics, ballet's new impresario needs to hurry off to attend to the set at the Coliseum which needs altering after its appearance at Sadler's Wells in 2012. Since then Men in Motion has been seen in Moscow and in Italy, and in each location the programme has been partially reworked.
It's possible further dates for the show will follow the London run - or perhaps with his obvious ambition Ivan Putrov will decide it's time for an entirely new project.
He's determined to become a major independent producer, as few dancers have ever managed to do. But watch him on stage and it's clear his dancing muscles have a lot of life in them yet.