Dylan Thomas unaired screenplay to get Radio 3 premiere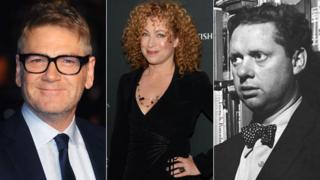 Radio 3 is to commemorate the centenary of the birth of Dylan Thomas by airing the world premiere of an unproduced film script by the famed Welsh poet.
Based on a short story by Robert Louis Stevenson, The Beach of Falesa was never filmed in the writer's lifetime.
The script will finally receive an airing as a radio drama on 4 May.
Radio 3's spring schedule also includes a production of Shakespeare's Antony and Cleopatra with Sir Kenneth Branagh and Alex Kingston in the lead roles.
The pair previously co-starred in a sold-out production of Shakespeare's Macbeth, staged at the Manchester International Festival last year.
Sir Kenneth said he was "excited to be reunited" with Kingston following their "hugely rewarding partnership" last July.
"To play another pair of Shakespeare's great couples, and for a personally beloved medium, is a privilege," the actor knight continued.
Directed by Alison Hindell, Antony and Cleopatra will be broadcast on 20 April to mark the 450th anniversary of William Shakespeare's birth.
Other birthdays being marked this spring include that of composer Maurice Ravel, the subject of a special day of programming on 7 March.
The Beach of Falesa will precede another dedicated day of programming on 5 May that will see a Dylan Thomas poem broadcast every hour.
Set on a fictional South Sea island, Thomas' unaired drama tells of a romance between a British trader and an island girl.
Posthumously published as a novella in 1963, 12 years after the writer's death, the script was never filmed despite interest from the actor Richard Burton.
Other programmes announced on Wednesday include Music and the Jews, a three-part series about the relationship between music and Jewish identity.
Channel controller Roger Wright said this spring's offerings were testament to "the distinct proposition that BBC Radio 3 offers its listeners".