Star Trek actor Zachary Quinto turns movie producer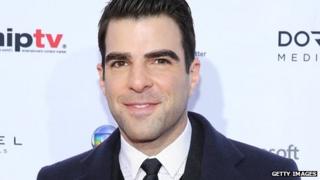 US actor Zachary Quinto is best known to cinema audiences as Mr Spock in JJ Abrams' blockbuster reboot of Star Trek.
He previously played the villainous Syler in the the TV series Heroes and is currently acting on stage in Broadway.
His production company Before The Door is about to release the low-budget psychological horror film Banshee Chapter.
You're on stage at the moment in a Broadway production of Tennessee Williams's The Glass Menagerie, that's got to be a dream job for a young American actor
Yeah it doesn't get more exciting than that, especially in the production like this one which is so unconventional and expansive. I'm having an incredible experience for sure.
Did you always want to be on stage or did you dream of being a film or TV star?
No originally as a kid I starred in theatre and its a thing I've always longed to come back to. I've taken a couple of detours. I lived in los Angeles for over ten years when I got out of school but I was always trying to do theatre out there and the goal was to try and come back. I did a play off Broadway a few years ago and this is my Broadway debut and I hope to keep returning to the stage as often as possible.
Aside from acting you have moved into producing with your company Before The Door, which you started in 2008 while you were still in the middle of Heroes. What prompted that decision?
I recognised that I had a lot of opportunities, Heroes gave way to Star Trek right away and it meant a lot of exposure and I knew that wouldn't necessarily last forever and I wanted to do something with it that would allow me a little bit of control in the stories that I tell and the things that I'm involved with creatively. The sense of control that a production company affords me is a little bit more control over organising projects, pulling things together and giving people opportunities.
You worked with JC Chandor on his debut feature Margin Call which premiered at Sundance in 2011. At this year's festival 56 films were involved in competitions but just a handful are likely to get a theatrical release. With increase in video on demand and streaming, where do you see the future for independent cinema?
That's a good question, we released Margin Call on the same day in theatres as we released it online. But it's a case by case basis, some films are meant to be seen in the cinema. JC's second film All Is Lost for example, is not the kind of movie that can be appreciated for its cinematic scope as fully on a small screen or computer so we put that in the theatres. Obviously it will end up online eventually. I think it's a very unique time and there is a lot that remains to be seen. We're trying to gauge the trends of the market and there are so many distribution platforms and as a result it's more difficult for some films to get attention.
You also produced JC's latest film All Is Lost, starring Robert Redford in a near wordless lead role. Were you disappointed he didn't get the expected best actor nomination?
I was surprised more than anything. Disappointed is all relative, the performance lives on film and I think people who see it treat it with great respect. It's incredible what he's done and I think JC made a beautiful film, very powerful for the audience and that's ultimately what matters. It's a great film and great performance and no-one can take that away from JC or Bob.
On the other end of the scale, you are releasing the low budget horror Banshee Chapter - about secret government testing of psychotropic drugs and an alien conspiracy. How did that come about?
Yeah a bit of a departure, it came to us through the writer director Blair Erickson, someone that we knew from university. He is an innovative storyteller and I really liked how he was approaching this story. It's a psychological slash horror but it is set in a world where there is some historical truth peppered into the fictional narrative.
More importantly, did it scare you?
Yeah, there's a couple of bits in the movie that always make me jump, even though I know they're coming. The thing I like about it is that it does have those kind of jump out of your seat moments of terror but it also has a quiet kind of ominous sense of foreboding and an anxiety producing scare quality.
What makes a good horror then?
I think the unexpected, I respond more to the psychological than graphic violence, its more about a fear that comes from within and what is imagined rather then seen.
You're part of one of the biggest franchises with Star Trek, are there any plans to make more?
Yeas, I'm sure that we will, I have absolutely no idea when. I'm pursuing other projects until I get the call that its a go. I know that they're working on a script and looking at directors to take over for the third film. The 50th anniversary in in 2016, so I imagine there will be some attempt to get a film together.
JJ is obviously busy with another big franchise Star Wars? Have you had the call, would you be interested?
I'm always interested in working with JJ, but I feel like I have the notch in the belt of a major sci-fi franchise. I love Spock, I love playing the character. If there was something that JJ wanted me to do in the world of Star Wars I'm sure I wouldn't argue with him but I feel like I'm beholden to Star Trek and I'm happy with that.
You are an openly gay man, who has actively campaigned on the issue of same sex marriage. What did you make of Macklemore and Ryan Lewis's performance of Same Love at the Grammys and the mass wedding of both straight and gay couples. Will it change attitudes in the US? There was a bit of a fall out from the conservative press.
All I know is that the song is a powerful anthem about inclusion and acceptance and that's a message that I'm very interested in supporting and preaching in my own way. I didn't watch the Grammys but the first time I heard that song I was moved and inspired by it and that has more to do with them as artists than any kind of liberal agenda. For me it's a message that more people could stand to both hear and support. I'm grateful that there are artists out there who are willing to spread that message.
Banshee Chapter is out now on DVD and VOD.