New York man admits faking Jasper Johns sculpture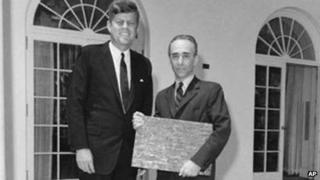 A New York foundry owner has admitted trying to sell a fake copy of a Jasper Johns sculpture, which he made using the artist's own moulds.
Brian Ramnarine, 59, pleaded guilty to three counts of wire fraud after duplicating a bronze sculpture of Johns' classic 1960 Flag painting.
Ramnarine, who also faked sculptures by two other artists, tried to sell the piece for $11 million (£6.6 million).
Johns gave evidence during the week-long trial at Manhattan federal court.
Ramnarine was paid by several artists in the 1980s and early 1990s to do work for them with liquid metal at his Queens foundry.
American painter Johns, 83, revealed in court that he had used him several times because of his excellent work, and asked him to create a wax mould for him in 1990.
However, he said he had not given Ramnarine permission to keep the mould or create any sculptures from it.
Four bronze copies of John's painting Flag were made in 1960, and the jury was shown a picture of President John F Kennedy posing with one that was given to him.
Ramnarine admitted telling prospective buyers that the artists in question had authenticated the fake sculptures.
When asked by US District Judge John G Koeltl if he knew what he was doing was wrong and illegal when he did it, Ramnarine replied, "yes, your honour".
He will be sentenced on 30 May and, as part of a plea deal, agreed not to challenge any sentence of 10 years or less in prison.
The charges can carry a maximum of 60 years in prison and, after his arrest, Ramnarine admitted carrying out additional sculpture frauds.
"I think Mr Ramnarine recognised the government had an overwhelming amount of evidence," said his lawyer, Troy Smith.
"He balanced that against his right to fight the case and go to trial, and he recognised that this was his best option."
Ramnarine had also tried to sell work that he claimed was by Brazilian-born sculptor and painter Saint Clair Cemin and American pop art sculptor Robert Indiana, most famous for his sculpture Love.
John's long-time assistant James Meyer is also due to go trial this autumn, charged with stealing nearly two dozen works and selling them through an art gallery. He has pleaded not guilty.