Martin Creed retrospective to open at Hayward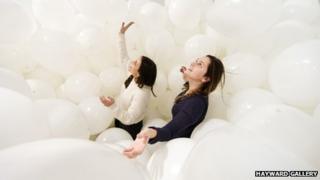 Turner prize winner Martin Creed is to open his most comprehensive exhibition to date at London's Hayward Gallery on Wednesday.
What's The Point Of It? features more than 160 works by the internationally-renowned artist.
Creed won the Turner prize in 2001 for his now famous installation, The Lights Going On and Off.
The show includes Half the Air in a Given Space - a large walled area filled with nearly 7,000 balloons.
Visitors are invited to walk inside the room and move their way through a mass of white balloons and try to find their way back out again.
Another work, displayed on one of the Hayward's sculpture terraces overlooking London's Southbank, features a Ford Focus car - every few minutes the engine starts, the horn beeps, the doors and the bonnet open, the wipers start and the radio comes on. Then everything turns off again and the doors shut. And the cycle begins again.
The artist, who was born in Wakefield, brought up in Glasgow and studied at London's Slade School of Fine Art, is no stranger to publicity - nearly three million people around the country joined in with Creed's All The Bells mass bell-ringing on the opening day of London's Olympic games in 2012.
Yet Creed says of his latest opening: "I've done exhibitions before but nothing as scary as this."
Although described by many as a conceptual artist, Creed says: "I don't believe in conceptual art."
If asked to categorise his work, he would call it Expressionism: "Everything that everyone does is always an expression."
Many of the works on display include everyday objects being stacked on top of each other - boxes, chairs, planks of wood.
But when asked about one of his box installations, he says: "I don't think of it as a work of art."
He also admits to having reservations about how best to display his work.
"I'm suspicious of art galleries. They are beautiful places that look good, anything can look good in a gallery to an extent.
"I feel a bit uneasy if it's a closed-off inward-looking place. I try to do my work outside as well," he adds - and the Hayward does seem to lend itself to his work with its open brutalist architecture and external sculpture platforms.
As visitors enter the exhibition, they are confronted by a huge steel structure with the word "mothers" written across it in neon letters - rotating 360 degrees, some taller patrons may have to duck at the right moment.
"I don't want to hurt anyone... but I think roads and railways are far more dangerous," Creed says.
The retrospective showcases the depth of the artist's work across many genres - his new album Mind Trap is also released on Wednesday - and his 2009 ballet, Work Number 1020, will be performed at the Queen Elizabeth Hall on 8 April. His band will also perform at the Royal Festival Hall on 8 February.
And sound is an important component of the exhibition, including Thirty-Nine Metronomes Beating Time, One At Every Speed - the loud ticking echoes around the neon mothers sign as you enter the gallery.
Ultimately, Creed says his aim is to work without boundaries: "I want to be free... I try to do things that I can live with having done."
So is there an answer to the exhibition's title - What's the Point of it?
"I don't know. It's a question I often ask myself. I don't really understand it but it means a lot to me."
Martin Creed: What's the Point of it? runs from 29 January until 27 April at the Hayward Gallery, London.