EastEnders 'must reflect' changing London, show's boss says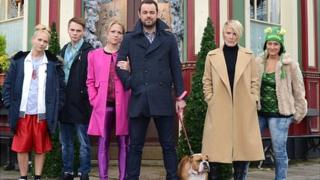 BBC One's EastEnders must "reflect the modern world" and changes in London, having been "frozen in aspic" for too long, the soap's new boss has said.
Dominic Treadwell-Collins said: "EastEnders has to sing new songs, otherwise it doesn't feel fresh."
The drama was recently revamped, with Danny Dyer as Queen Vic pub landlord.
Since the show began in 1985, east London has taken off, with Shoreditch and Hackney now attracting "hipsters", art students and technology companies.
The BBC recently unveiled plans to build a new Albert Square, which will replicate the original but also be 20% bigger so they can open up new locations to film in.
"It should feel more like London. It's been frozen in aspic for too long," Treadwell-Collins told the Radio Times.
Terraced houses on Fassett Square, the area of Hackney used as the original inspiration for Albert Square, are now selling for as much as £700,000.
"Sharon [Letitia Dean] said recently that she's looking to be a landlady and as a result you'll see the edges of Shoreditch creeping into EastEnders. It's got to reflect the modern world," added Treadwell-Collins, who took over as executive producer in August last year.
He added that he wanted to see the soap focus less on action and more on character, adding that it "has to be about people and feelings and emotions".
"I've never been a fan of blowing things up," he said.
Last week EastEnders was beaten by Coronation Street at the National Television Awards, following the ITV soap's emotional right-to-die storyline involving Hayley and Roy Cropper.
A "proper die-hard EastEnders fan", Treadwell-Collins said he was happy to see the return of familiar faces, such as Lacey Turner playing Stacey Branning, as well as new characters.
"It's good to have one foot in the past while looking to the future. My idea is to make the show feel fresh with the Carters, but also a bit nostalgic by bringing back characters we love," he said.
"And there should be more secrets that will make the viewer gasp," he added.