Dame Helen Mirren to receive Bafta fellowship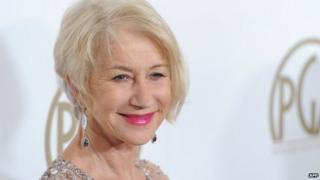 Dame Helen Mirren is to be awarded the British Academy fellowship at next month's Bafta Film Awards.
The annual prize, given to Sir Alan Parker last year, is the highest accolade the Academy can bestow.
Dame Helen, who won a best actress Oscar in 2007 for The Queen, said the honour was "overwhelming".
Previous winners of the prize have included Charlie Chaplin, Alfred Hitchcock, Steven Spielberg and Stanley Kubrick.
The British actress will collect the award at the British Academy Film Awards ceremony at the Royal Opera House in London's Covent Garden on 16 February.
Bafta chairman John Willis said: "Dame Helen Mirren receives the fellowship as one of the most outstanding actresses of her generation. Dame Helen's incredibly successful career is testament to the determination, dedication and skill she brings to each of her roles."
Dame Helen said: "This is the greatest professional honour I can imagine, certainly one I never dreamt of as a schoolgirl in Westcliff-on-Sea, Essex. To join that list of legendary names is overwhelming."
An accomplished film, television and stage actress, Dame Helen's breakthrough film role came in John Mackenzie's British gangster flick The Long Good Friday (1980).
She went on to appear in Excalibur, Cal and The Madness of King George, for which she was both Bafta and Oscar-nominated.
She is the only actor to have taken on the role of both Queen Elizabeth I and II on the screen, and it was her portrayal of Queen Elizabeth II in the 2006 film The Queen that saw her awarded with a Bafta, a Golden Globe and an Academy Award.
She was also named best actress at the Olivier awards last year for The Audience, in which she again played Elizabeth II on stage.
In 2003, she received a damehood for services to the performing arts.
Other films in her diverse career include The Cook, The Thief, His Wife & Her Lover, Gosford Park and Calendar Girls.
Recent films include Red and Monster's University, The Last Station, The Debt and Hitchcock.
Dame Helen's television career includes Elizabeth I, in which she played the titular role, and the Prime Suspect series, in which she played Jane Tennison - a role for which she has been awarded three Baftas.