Stephen Fry to play British PM in 24: Live Another Day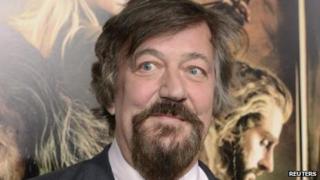 Actor Stephen Fry will play the British Prime Minister in hit drama 24: Live Another Day, as Kiefer Sutherland returns to the role of Jack Bauer.
Fry confirmed the news on Twitter, posting a link to a story on Deadline Hollywood and writing, "Well, this particular cat is out of the bag".
The actor's recurring role, Prime Minister Trevor Davies, is described as a "strong and charismatic leader".
Set four years after the last series, Bauer returns as a fugitive in London.
The counter-terrorist expert is on the run from the CIA in the capital and Sutherland has recently been photographed filming in London's Aldgate.
The Fox series is due to premiere on US TV with a two-hour special on 5 May and will be broadcast on Sky 1 in the UK soon after.
The action in this shorter, 12-episode series of 24 will still take place over the course of a single day, but it will leap around in time instead of following 24's usual, hour-by-hour structure.
It will see the friendship between Fry's character and US President Heller come under pressure due to personal and political crises.
Earlier this month, at the Television Critics Association winter meeting, Sutherland said he was nervous about returning to the show.
"I'm about as anxious and wound up as I've been in a long time," he said.
"There's a great impetus for all of us to create something new with the show."
Mary Lynn Rajskub will return as Chloe O'Brian, William Devane stars as US President James Heller and Kim Raver will play Audrey Raines.
"Hopefully, by the time you're finished watching an episode, you'll feel like you've been there… on the edge of your seat," added Sutherland.
More than 192 episodes of the Emmy Award-winning show were broadcast between 2001 and 2010, with a television film 24: Redemption also broadcast between seasons six and seven.