Frankenstein fails to scare US box office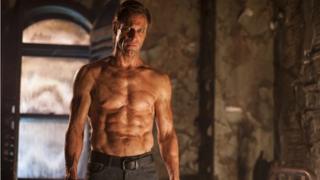 The latest big screen version of Frankenstein has failed to impress cinema audiences in North America, debuting in a lowly sixth place.
Aaron Eckhart's beefy vision of the legendary monster made $8.3m (£5m), while the film cost $65m (£39.3m).
Ice Cube's cop comedy Ride Along stayed firm at number one, coining in $21.2m (£12.8m).
Lone Survivor, starring Mark Wahlberg, held its nerve in second spot, taking $12.6m (£7.62m).
The film, about the war in Afghanistan, was relatively inexpensive to make and is heading towards a cumulative total of $100m (£60.5m).
Animated films The Nut Job stayed at number three, with Frozen just behind in its 10th week of release.
The Disney movie has becomes the second biggest original animation of all time, behind Finding Nemo.
Political thriller Jack Ryan: Shadow Recruit, boasting a line-up including director-actor Sir Kenneth Branagh and Keira Knightley, slipped back to fifth place after a modest debut at four last week.
Hollywood publication Variety is calling I, Frankenstein the "year's biggest financial flop so far", which is likely to slip even further next week as it loses big screen slots to other films including the remake of Robocop.
In the race towards the Oscars at the beginning of March, American Hustle has made the biggest box office headway so far at number seven.
The leading Academy Awards contender, with 10 nominations, was ahead of August: Osage County and Martin Scorsese's The Wolf of Wall Street with North American audiences.
Other best picture contenders had nationwide debuts this weekend, including Dallas Buyers Club, which made a modest $2m (£1.2m)
It previously opened in autumn but had a limited run at a smaller number of cinemas.