Archers star June Spencer wins honorary BBC audio award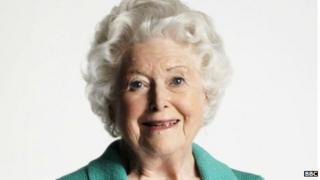 Veteran Archers star June Spencer has won a lifetime achievement honour at the BBC Audio Drama Awards.
The 94-year-old, who plays Peggy Woolley, has been in the Radio 4 soap opera since its first episode in 1951.
BBC director general Tony Hall presented Spencer with the award at a ceremony in the radio theatre at BBC's Broadcasting House in London on Sunday.
Spencer is the only remaining member of the original cast. The ceremony was hosted by Lenny Henry.
The actress has recently been at the centre of a storyline about the death of her on-air husband after suffering from dementia.
The actor who played her partner - Arnold Peters - was also diagnosed with Alzheimer's disease and died last May.
Spencer lost her own husband to the disease.
'BBC unique'
Editor of The Archers Sean O'Connor, said: "June is an extraordinary woman who has committed her life to the BBC and The Archers. At 94, absolutely nothing fazes her.
"She performed with heart-breaking dignity in the recent episodes, using her instincts as an actress and channelling her own difficult experiences of caring for a loved one with Alzheimer's.
"It's a testament to her that these episodes have managed to move listeners so profoundly," he added.
Other winners on the night included Lee Ross, who was named best actor in an audio drama for Radio 3's King David.
He beat Simon Russell Beale, who was nominated for his role in Copenhagen on BBC Radio 3 and Joseph Millson in The Real George Orwell: Jura, on Radio 4.
A production of Evelyn Waugh's Sword Of Honour trilogy for Radio 4 was named best audio drama adaptation.
Doctor Who: Dark Eyes won the best online or non-broadcast audio drama.
Radio 4's Cabin Pressure, starring Benedict Cumberbatch, missed out in both the scripted comedy and scripted comedy drama categories.
Love and Sweets 3: Grand Canyon won best scripted comedy drama, while Sketchorama: Absolutely Special, also broadcast on Radio 4, won best scripted comedy.
Lord Hall said: "The BBC is unique in realising the power of radio drama. It is something we have believed in for 90 years - and continue to champion. Britain is famous for the quality of its writers, actors and directors. My congratulations to everyone involved."