Courtney Love cleared in Twitter libel case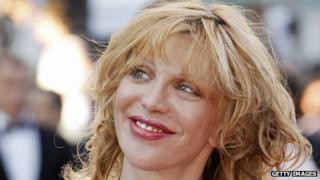 A tweet posted by singer Courtney Love about a lawyer she hired was not defamatory, a US jury has decided.
The case against Love claimed she had committed libel by falsely suggesting in a 2010 tweet that Rhonda Holmes had been "bought off".
Love's 2010 tweet read: "I was devastated when Rhonda J Holmes Esq of San Diego was bought off".
Jurors found that Love's tweet included false information, but the singer did not know it was not true.
The verdict was returned by the Los Angeles County Superior Court jury after about four hours of deliberations, said Holmes's lawyer Mitchell Langberg.
It is thought to be the first high-profile case of an alleged libel on Twitter going to trial in the US.
Love had hired Holmes to file a fraud case against the estate of her late husband, Kurt Cobain, but the relationship turned sour.
During the eight-day case, Holmes contended that she was sacked by Love and that the tweet and other statements made about her had caused her harm.
'Epic battle'
Love told jurors that the tweet in question was never meant to be public - she was meant to send it as a direct message, which would only be seen by the recipient, but posted it publicly by mistake. She said she deleted it immediately when she realised what she had done.
Love praised her lawyers and the jury after the verdict was delivered on Friday.
"I was really happy for the firm and for me and for everybody that the case could have affected if it had been adverse," she told local NBC television outside the courthouse.
She later tweeted: "I can't thank you enough Dongell Lawrence Finney LLP, the most incredible law firm on the planet. We won this epic battle. #justiceprevails."
Holmes had been seeking $8m (£4.8m) in damages in her libel claim.
Mr Langberg said that while his client was disappointed with the verdict, her reputation was upheld and the world now knew that Love's statements were false.
"At the end of the day, her biggest asset in life is her reputation," Langberg said.
"That she got back today."