Princess Grace movie pulled from release schedule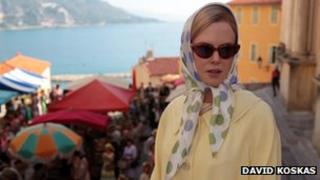 A biopic about Princess Grace of Monaco, starring Nicole Kidman, has been pulled from release in the US by its distributor The Weinstein Co.
The company has given no explanation for its decision to hold back the the film, which was due out on 14 March.
Its original November release was delayed because it was deemed not ready for cinema screens.
Director Olivier Dahan has previously claimed that he was at odds with Harvey Weinstein over the final cut.
In his interview with French newspaper Liberation, translated and reproduced in The Guardian, Dahan said: "What's complicated at the moment is ensuring that you, the critics, can review my version of the film and not that of somebody else.
"It's not over yet. I haven't given up."
The Weinstein Co. has not responded to Dahan's claims.
The film-maker's previous work includes Edith Piaf biopic La Vie En Rose, which won Marion Cotillard a best actress statuette at the Academy Awards.
Grace of Monaco's original November release date was put in place so the film would be eligible for the Oscars.
The Weinstein Co. has slated British comedy drama One Chance for the 14 March slot, but has yet to announce a new date for Grace of Monaco.
The script of the movie has been criticised by the Monaco royal family, who said it contained "major historical untruths and a series of purely fictional scenes".
"The Princely family wishes to emphasise that this film is by no means a biopic," their statement added.
It has also been announced that Grace of Monaco will have its world premiere at the Cannes Film Festival on 14 May.
According to the French film gala's official website, the film will be released in France and a number of unspecified cities around the world on the same day.
Variety magazine has reported that a coveted opening slot at Cannes explains why the film has been pulled from the US cinema release schedules.
Organisers of the festival are keen to promote a film which has not been on release and therefore has the pulling power of an international premiere.