The women storming Sundance
By Emma Jones
Entertainment reporter, BBC News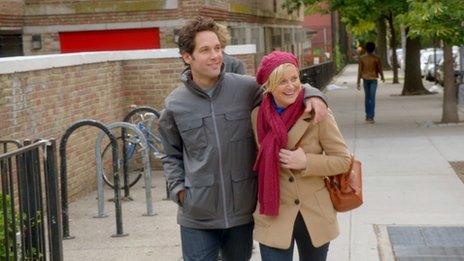 At the age of 42, actress and comedian Amy Poehler has made her first romantic comedy - They Came Together, with co-star Paul Rudd. A send-up of Nora Ephron films like You've Got Mail, the spoof premiered at the closing night of the Sundance Film Festival in Utah this weekend.
"I don't know how I got to be over 40 and only now starring in my first rom-com," Poehler admits," but it's still an independent film, there's a lot of twists to it."
This year's event has premiered films starring many of America's leading 'funny' women - including Kristen Wiig in the critically applauded The Skeleton Twins, and the writer and star of TV series Girls, Lena Dunham, who stars opposite Anna Kenrick in Happy Christmas.
Keira Knightley also made her comedy debut as a 28-year-old who strikes up a friendship with a teenage girl in Laggies, a film which prompted a bidding war before the rights were sold for $2m (£1.2m).
"Doing comedy was wonderful," she says, "but nerve-wracking at first, because in comedy, timing is everything.
"However, what I really love about this is that it's an original idea, it just hasn't been done before by and for girls. It's a tiny budget film but I just had to do it."
Knightley's character, Megan, who is on the run from a marriage proposal, finds more connection in the company of a 16-year-old girl, played by Kick Ass star Chloe Grace Moretz.
Laggies was directed by Lynn Shelton, who also made the drama comedy, Your Sister's Sister, starring Emily Blunt, and the breakthrough independent hit, Hump Day.
"I think it's the Bridesmaids effect," Shelton says.
"Everyone has been looking for the new Bridesmaids and it's clear that humour written by and starring women can make money - look at The Heat, which was the most successful comedy of 2013. That idea is starting to be accepted, and so I have to see if the film market is going to be kind to us, but I have high hopes.
"What I like about Laggies, which was written by another woman, is that it's a dramatic comedy, so it's not just pratfalls making you laugh. With female-driven vehicles, the laughs are usually coming from within the humour of a real-life situation.
But she points out that it hasn't been an easy journey.
"All this success has been a long time coming - I didn't actually have a career until I turned 40-years-old and I made my first feature film a couple of years before that. I think a lot of women in the industry have to be late bloomers," she explains.
Poehler, who hosted this year's Golden Globe Awards for the second time running with writing partner Tina Fey (who starred opposite Paul Rudd last year in the comedy Admission), calls it "proof of the longevity and versatility of women. I think a lesson is - if you've got it when you're young, you'll keep it when you're older."
At the time of the Globes, Fey also expressed her frustration in trade magazine Hollywood Reporter that if you are female, "you get asked 'is it hard and are women funny?' The men don't get asked that question."
Kristen Wiig, the writer and star of 2011's Bridesmaids, takes a more dramatic turn in The Skeleton Twins, a movie which reunited her with her Saturday Night Live co-star Bill Hader. The pair play estranged twins who reunite after both cheating death on the same day.
Wiig says: "I never meant to be a comedian, and I don't wish to be typecast. I want to do more drama, I want to write more, perhaps direct. Comedy though, gave me my first break."
"TV has been particularly hospitable to female comedy over the last few years," points out Laura Hertzfeld, the editor of Entertainment Weekly website.
"Saturday Night Live in particular gave a platform to Amy Poehler, Tina Fey and Kristen Wiig. And you have a new generation of showrunners - look at Jenji Kohan on Orange is the New Black. Feature films though are more of a challenge for women to crack the code. But these women like Amy, Tina and Kristen are already famous as actors, and that helps them get their films made more easily," she explains.
"The fact that there's been no follow-up hit to Bridesmaids shows there's no precise formula on how to make money at the box office. And I hope the women who are getting opportunities are pulling up others alongside them."
Zosia Mamet, 25, the star of HBO's series Girls, agrees that more opportunities are coming the way of younger female writers and actors, "and that's partly down to someone like my co-star Lena Dunham, who produces, writes, directs - she does everything. Girls is both comedic and dramatic.
"Women being funny shouldn't be such a revelation to most people, but Lena has been at the forefront of what I think is a renaissance for this kind of genre."
Looking at the wider picture, some female film-makers point out though that it's still overwhelmingly in the independent sector where women are managing to make a name for themselves.
British Oscar-nominated documentary maker Lucy Walker, whose short film The Lion's Mouth Opens showed at this year's Sundance, points out that three of this year's nominees for the Director's Guild Awards in documentary were women, including herself.
"It's unprecedented," she says. "It's a real breakthrough. But if you look down the rest of the lists with features and TV, it's men, men, men. It's as heavily dominated by males as say, working at a fire station.
"Documentaries are female-friendly because they're not so expensive to make, and you don't have to go through the entire studio system to have approval for talent. So it's no wonder that whether it's a feature or factual, there are a greater number of women presenting films here in the independent sector at Sundance.
"Last year we achieved a 50-50 split in terms of an equal number of male and female directors showing here, which was historic.
"But the reality is still in the western world, overall less than four percent of those working behind the camera are women. If the studio gives the go-ahead for a female to helm a film, it's a major vote of confidence. It's still a blatantly sexist industry, no matter how good or funny you are."
The Sundance Film Festival runs until January 26, 2014. Sundance London will run between 25-27 April 2014.