Justin Bieber bailed after Miami drink-drive arrest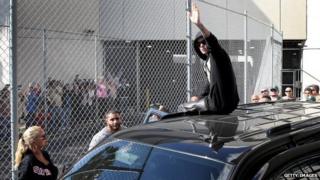 Pop singer Justin Bieber has been released from custody in Miami, following his arrest on Thursday.
The 19-year-old posted bail of $2,500 (£1,500), after a brief court appearance, where he was accused of driving under the influence of alcohol, marijuana and prescription drugs.
Police said the star had been racing a sports car on a Miami Beach street. He was also charged with resisting arrest and having an expired driving licence.
Bieber waved to fans as he left jail.
Escorted by officials and his personal entourage, he climbed on to the roof of a sports utility vehicle to greet his supporters, many of whom were in tears, before being driven away.
At the bail hearing, the Canadian star stood silently, dressed in an orange prison uniform, as he heard the charges against him.
Hours earlier, according to police reports, he and a friend were drag racing on a residential Miami street, in a yellow Lamborghini and a red Ferrari while a pair of SUVs blocked traffic.
Miami-Dade Police estimated they were driving at 55mph in a 30mph zone - flanked by apartment buildings, a high school, a youth centre and a golf course.
Miami Beach's police chief, Raymond Martinez, said Bieber initially refused to co-operate with officers and was "a little belligerent, using some choice words".
During the investigation, the singer "made statements that he had consumed some alcohol, that he had been smoking marijuana and consumed some prescription medication," Mr Martinez continued.
The arrest report said the singer "had slow deliberate movements" and a look of "stupor" when an officer told him to step out of the Lamborghini.
The driver of the second car, R&B singer Khalil Sharieff, was also arrested and both cars impounded.
On the ride to the police station, Bieber was informed that he was suspected of driving while under the influence. The singer said he was not drunk and had been recording music.
His bail was posted by manager Scott Braun, who earlier tweeted the star, saying: "[I] love you and I will act in the manner of someone who truly cares."
He later added: "Been a long day. Bottom line is we are defined by how we handle adversity."
Bieber is the highest-paid teenager in the world of entertainment, worth $58m (£35m) according to Forbes magazine.
He built his career on a squeaky-clean image and lightweight pop songs, but has recently been trying to court an older audience.
Jennifer Peros, from American entertainment magazine US Weekly, said the arrest could be costly.
"Justin makes most of his money from people who are younger than him, who look up to him and see him as this clean-cut guy," she told the BBC.
"Now that he's getting arrested and put in jail, I think he's going to lose a lot of his fanbase - as well as parents who are going to say 'I don't want my kids buying his merchandise'."
The star has had several run-ins with police over the past year, although this was his first arrest.
Last week, Bieber's home in Los Angeles was searched by police following allegations he had thrown eggs at his neighbour's house.
He was accused of causing significant damage to the property. One member of his entourage was arrested for alleged drug possession.
The young star's behaviour has become increasingly difficult to control, his manager admitted in a recent interview.
"When Justin was younger, it was 'keep him out of trouble, stop him from falling down, protect him as much as you can from anything that can hurt him'," Braun told The Hollywood Reporter.
"When I try to do that now, he's resentful, he pushes away and rebels. What I've come to learn is: Be there, give the best advice you can, but he has to be allowed to make his own decisions - and his own mistakes."
Braun said he often stayed awake until he was sure Bieber was safely at home.
"I'm usually up pretty much all night until I know Justin is in," the manager said. "At night is when trouble can come."
Bieber currently lives in a gated community in Calabasas, about 30 miles north-west of central Los Angeles.
A Canadian citizen, he lives and works and works in the US under a 0-1 visa, issued to anyone who displays "extraordinary ability or achievement" in their field.
Experts said the current charges, classified as misdemeanours, were unlikely to jeopardise his immigration status, but would nonetheless be cause for concern.
"In the future, any time he tries to come in the country, or tries to renew his visa, it's going to slow, because he's been arrested," immigration lawyer Paul Herzog told the LA Times. "It's going to be a flag."