Kinky Boots set to transfer to the London stage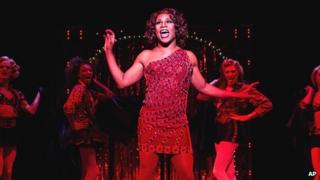 Hit Broadway musical Kinky Boots is to transfer to the London stage next year, its director has revealed.
Jerry Mitchell said the award-winning show was "definitely" coming to the West End but was waiting for a vacancy to open at one of four theatres.
The show, with music by Cyndi Lauper, scooped six trophies at last year's Tony Awards, including best musical.
The story of a struggling shoe factory enlivened by female impersonator Lola was first seen on film in 2005.
The lead role on the big screen was played by Chiwetel Ejiofor, nominated for an Academy Award this year for his role in 12 Years a Slave.
Speaking to The Stage at the launch of his new musical Dirty Rotten Scoundrels, Mitchell said talks were ongoing to secure a West End theatre for the production for spring or autumn 2015.
"We have been offered four different theatres, but they all currently have shows in them. So until any of them close, or announce they are closing, we won't know for sure," he said.
The Broadway show opened last April and proved a box office success, while it was Lauper's debut at writing a musical.
A tour of the US is planned for later this year.
Meanwhile, the closure of Sir Tim Rice's West End musical From Here to Eternity has been brought forward from April to March.
The show, starring Darius Campbell, opened in October and was Sir Tim's first completely new musical for 13 years.
Also on the London stage, the National Theatre's new version of Shakespeare's King Lear has received mixed reviews from the critics.
The production, directed by Sam Mendes, was deemed "quite exceptional" by The Guardian's Michael Billington.
He called the titular performance of Simon Russell Beale "extraordinary", and his interpretation of the tragic figure "unorthodox and magnetic".
Charles Spencer, writing in The Telegraph, said this isn't "one of their greatest achievements", and the dystopian setting showed "errors of judgement" on Mendes' part.
He concluded it is a "genuinely gripping and often affecting evening, but one that doesn't quite do full justice this greatest of plays".
In a three-star review in the Daily Mail, Quentin Letts questioned whether Russell Beale, at 53, is "old enough" to play Lear.
He added of the actor's demeanour: "At times there is a hint of Uncle Albert from Only Fools And Horses."