Chromeo 'trying to work all angles' with new album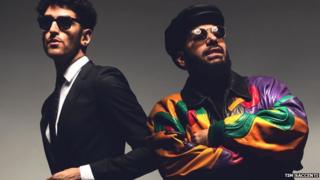 As Chromeo prepare to return with their fourth album White Women, they take time out from mastering the album, for an exclusive chat with BBC News.
When Daft Punk stepped on stage at the Grammy awards in Los Angeles last week to accept their best album gong for their retro funk and disco LP Random Access Memories, it would be forgivable, even understandable for Canadian band Chromeo to have felt a twinge of jealousy.
While mainstream music critics lavished praise on the Gallic robots' Nile Rodgers' Le Chic-inspired beats, Chromeo have been pushing a similar brand of 80s soft rock meets 70s disco since their debut album in 2004.
While they haven't enjoyed the same blockbusting sales figures as Daft Punk, they have a smaller but no less devoted following.
"It came at the right time for us, we've been doing this and trying to convince people for ten years," insists P-Thugg aka Lebanese musician Patrick Gemayel.
"Daft Punk did it in a way that really pays homage to the forefathers in as much as they involved them in the record," explains singer and guitarist Dave Macklovitch aka Dave 1.
"The way we tried to do it is involve people like Solange (Knowles, Beyonce's sister) and Toro y Moi and Ezra from Vampire Weekend - in other words we take people from the indie sphere and bring them to this funk universe.
"Obviously they're different approaches and we've been fans of Daft Punk from early on, so we're grateful that there's more of an acceptance of this music right now."
Dave 1 and P-Thugg are in London to master their fourth album, White Women at the Metropolis studio in Chiswick, south-west London.
Inside the hulking Powerhouse building, which was built in 1901 to power the trams of west London, the band are adding the finishing touches to the record before its release in April.
"In the UK you've got this huge 80s synth-pop tradition with producers like Trevor Horn and that was really inspiring for us to come and mix the record here and master the record here, it was the logical step," says Dave.
"I think for us its important to master our albums like an electronic record, otherwise its too retro. It has to sound good next to (Mercury-nominees) Disclosure, it can't sound like a record from the 70s. That would be boring."
Chromeo's previous album Business Casual was released three years ago to positive reviews. The new record is a familiar mix of their brand of disco meets funk and hip-hop, with more than a smattering of eighties balladeers Halls and Oates.
Just a handful of tracks have been revealed, including Sexy Socialite - "lets just say that we had to spend a lot of time in LA doing this record," says Dave. "There is that sunny California thing with [the song] Over Your Shoulder as well, it establishes our humour too."
The aforementioned Over Your Shoulder is a real standout with its infectious Le Chic style guitar hook. Beyonce's sister Solange Knowles also adds her vocals to the track Lost on the Way Home.
"She sang a hook on a track for the last album but she sounds amazing," says Dave.
What looks to be that final track on the album, Fall Back 2 U, is an epic disco number, with its surging string section and solo sax. "The ending of the album is almost Massive Attack-ish," says Dave. "It's a celebration of what we're about."
And what Chromeo is about, is a strong presence online.
The British Phonographic Industry's (BPI) most recent figures show that while the CD has been in steady decline for the past few years and downloading has reached a plateau, there has been a huge increase in music streaming on sites like Deezer, Pandora and Spotify - which recently revealed that it pays an average of $0.007 per play.
It's a business model which has split musicians, with artists like Thom Yorke and Moby, who likened Yorke's anti-Spotify stance to "an old guy yelling at fast trains", on either side of the debate.
For a band like Chromeo, whose initial buzz began online, they don't see the changing business as a problem.
"For us its good, insists Dave. "I think a huge part of our identity as a band is that we're an internet band, we blew up with the internet at the same time as music blogs blew up round 2007, and that's when [our album] Fancy Footwork blew."
Come Alive, the band's first single from their forthcoming album, is "in two weeks - at half a million streams on Soundcloud," Dave continues.
"Soundcloud is crucial to us, that's part of being a modern group. Luckily we have deals in place with labels who understand that this is the shape of our business, they adapt and we adapt. We're trying to work all angles."
One of those angles is licensing their music out to video games. Chromeo's music has been used on the likes of Fifa 09 and Fifa 11 and the racing game Dirt 3.
"For a band like us it would be ridiculous to sit back and build our success on radio, its an artistic challenge for us," explains Dave.
"They're like mini labels now, the video gaming companies," adds P-Thugg.
"They're bigger than labels, they sell more," Dave agrees. His point is supported by the Entertainment Retailers Association (ERA) which now says the biggest digital sector in the UK is, by far, video games.
With a worth of more than £552m, it was bigger than digital sales of music and video combined.
"It's just a different model and the labels understand that and they make money too, so everyone profits so long as you understand that structure and you adapt to it," says Dave.
"It's economically interesting and intellectually interesting and technologically interesting and as artists you have to be aware of that because we can't sit back and collect royalties from radio and record sales, we're not in that position."
The band's relationship with fans is illustrated by their voracious use of Twitter. One lovelorn follower even presented them with a picture of P-Thugg floating on a cloud. Is this typical?
"We get the Chromeo nails all the time," says Dave, referring to fans painting their nails elaborately with the band's name.
"We get a lot of fan art, a lot of Halloween costumes. This is what happens when you are characters. Me and P are like cartoon characters and we don't hide that.
"Yes, it's a reflection of a band's personality," agrees P. "We love to be out there sharing pictures and crazy stuff with our fans. Like Kiss."
Dave adds: "We want to be like Kiss. For us, a band has to be someone you can dress up as at Halloween. You can dress as The Beatles, you can dress as [Led] Zeppelin, you can dress as Mick and Keith and we'll know who you are.
"So the fans have this rapport with us, where they feel they want to draw us and feel connected to us and we embrace it, we encourage it."