Ladysmith Black Mambazo founder to step aside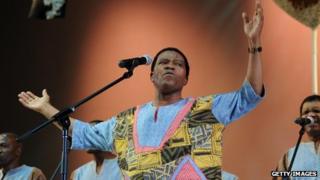 The founder of South African group Ladysmith Black Mambazo is to take a back seat at the age of 73, their manager has announced.
Joseph Shabalala, who performed at a memorial concert for Nelson Mandela last month, will "enjoy the fruits of his hard work".
He will not take part in the choral groups's forthcoming three-month tour.
The group shot to fame when they recorded the Graceland album with Paul Simon in 1986.
They have won three Grammys and are nominated for a fourth at Sunday's ceremony in the US, for their album Singing For Peace Around the World.
Shabalala will stay at home in South Africa.
Ladysmith's manager Xolani Majozi said: "Because of his age we want him to relax a bit, not to be involved in intensive tours.
"He can still perform, but we don't want to overwork him. We think he has done his part," he added.
A number of Shabalala's sons continue to perform in the 12-strong group, along with one of his grandsons.
The former farm worker is said to have founded the group in the 1960s after a series of dreams and began performing at weddings and a number of local functions.
He began his singing career at the age of 25.
Ladysmith's work with Paul Simon sparked further international success, including work with a number of artists including Dolly Parton, Michael Jackson and Melissa Etheridge.
They performed a version of Swing Low, Sweet Chariot for the 1995 Rugby World Cup which reached 15 in the UK chart.