British Library to host biggest British comic exhibition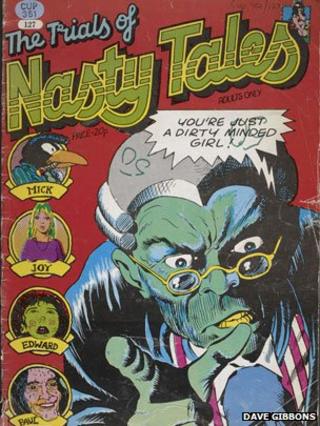 The British Library is to mount the largest exhibition of comics ever held in the UK.
Comic Unmasked: Art and Anarchy in the UK will showcase early work from the likes of Watchmen illustrator Dave Gibbons and writer Alan Moore.
The Library's 2014 season will also include an exhibition of Gothic literature and the archives of Buddha of Suburbia author Hanif Kureishi.
Plans to commemorate World War One include a free exhibition and website.
Comic Unmasked will feature more than 200 comic books from 1825 to the modern day, including examples by some of the field's biggest names: Neil Gaiman, Kick-Ass writer Mark Millar and Batman writer Grant Morrison.
Included in the exhibition is Dave Gibbons' 1970s work focusing on the obscenity trial of the magazine Nasty Tales, charged over its graphic content.
The exhibition will run from 2 May until 19 August.
Terror and Wonder: The Gothic Imagination will, says the British Library, be "the UK's most comprehensive show of Gothic literature yet".
'Queen of gothic' letter
Beginning 250 years ago, with the publication of Horace Walpole's The Castle of Otranto in 1764, the exhibition will examine how that book influenced the likes of Mary Shelley, Edgar Allen Poe and Bram Stoker.
Forming a centrepiece to the show, from 3 October until 27 January 2015, is a newly-discovered letter written by "queen of gothic" Ann Radcliffe.
The Library said the letter is one of only three manuscripts in the world written in the author's hand and the first known to exist in Britain.
Coinciding with the exhibition will be a BBC Four season on gothic literature, due to be broadcast in the autumn.
Meanwhile, more than 50 diaries and notebooks belonging to author and playwright Hanif Kureishi have been acquired by the library and will be held in its collection alongside contemporary writers including former Poet Laureate Sir Andrew Motion.
Kureishi said he was "delighted" the library had taken on the archive, adding "with the British Library's inventiveness and resourcefulness, it might be useful to a broad audience for a long time."
Marking World War One's centenary year and using the library's already amassed collection of items from around Europe, a free exhibition will show how people coped with life during the war.
A website featuring recently digitised materials including trench diaries and war poetry will be launched at the end of January.