Actor loses voice in middle of Sam Mendes' King Lear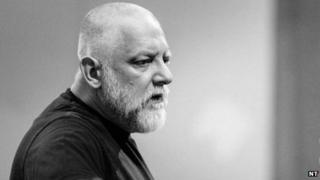 Simon Russell Beale has admitted he had "no idea what was happening" when a co-star lost his voice in the middle of a preview of King Lear.
Sam Troughton, who plays Edmund in the National Theatre production, was struck dumb mid-sentence shortly before the interval on Tuesday night.
"It must have been terrifying," Beale told BBC Radio 4. "Apparently his voice just completely gave out."
Some of the cast thought the silence was deliberate, he added.
"Stephen Boxer, who plays [Edmund's] father Gloucester, said: 'That's a very daring choice at the Olivier Theatre!'"
Speaking to the Front Row programme, Beale explained that although Troughton had only a few scenes left to complete, "there were things he had to do, so we had to nip and tuck on the wing".
"Various actors had to do monologues, so it was rather skilful."
And he was impressed with how the production managed to keep going.
"There is a bit of you that goes in your head: 'We can't do the second half; we can't throw someone on that's never done this on stage in front of 1,000 people.'
"But that's not the way we do things and I was really proud of everyone."
Beale is playing the lead role in Sam Mendes' much-anticipated production of the Shakespeare play - but he said he was one of the last to know of Troughton's predicament, because they share relatively few scenes.
The first he knew was when Mendes "whizzed past backstage and said Troughton had lost his voice".
For the remainder of the first half he "couldn't get any information because every time I came off stage the relevant people weren't there".
"It was a very peculiar feeling," he admitted.
Acting choice
Director Sam Mendes came on stage at the interval to explain to the audience what had happened and that the understudy would be taking over the role.
"It was a good speech, very elegant," said Beale, "and the audience were lovely. They were willing us on."
"You are in the privileged position of seeing not one but two actors' nightmares," Mendes said, referring to Troughton losing his voice and the understudy having to go on at short notice.
The understudy on the night was Paapa Essiedu, who is not long out of Guildhall drama school.
"I went and saw him at the interval and just patted him on the back because the last thing he wants is me wishing him well... but he was fantastically cool," said Beale.
"It's one of those occasions when you go: 'I'm rather proud of this team for just willing it forward'".
Troughton will return to play Edmund on Thursday's press night.