Angela Lansbury follows mother's footsteps in Blithe Spirit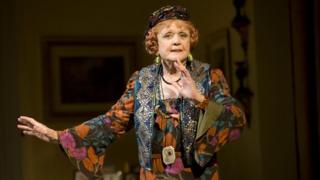 When Angela Lansbury returns to the London stage in March she will - quite literally - be following in her mother's footsteps.
The 88-year-old actress, who become a dame in the New Year's Honours list, is about to start rehearsals for Noel Coward's Blithe Spirit at the Gielgud Theatre.
Her mother, actress Moyna Macgill, made her debut on the same stage in 1918 - when the theatre was known as The Globe.
"Isn't it amazing?" Dame Angela tells the BBC News website. "She made her debut there and I'm going in now. I could be in her dressing room.
"I know so much of my talent came from her. She was a sensitive, lovely actress who played Desdemona, and acted with Basil Rathbone. She was a star."
Now, almost 100 years on, Dame Angela will reprise the role of the eccentric medium Madame Arcati, which she first played on Broadway in 2009.
It will be her first appearance on the London stage for 40 years.
"I'm ready to go out of the gate like a racehorse again with Arcati," says the actress, over a cup of tea at a hotel in south Kensington.
After a career spanning seven decades on stage and screen - including the long-running crime series Murder, She Wrote - does she feel any nerves ahead of her London run?
"As an artist one always has to prove oneself, one has to come out of the gate with everything going. I have to rely on everything that I've learned all my life.
"Comedy is my metier and I like to feel there's an essence of reality in all the characters I play. I think Arcati is all of that. She's totally sincere about her desire to help.
"That's what makes her terribly funny at times and rather tragic in others."
The veteran actress admits the role is also very demanding. Each night she performs a dance (she prefers to call it a "movement") as Madame Arcati attempts to get in touch with the spirit world.
"The onlookers think she's absolutely nuts," Dame Angela says. "I do it differently every night, it's not choreographed."
She confirms a Broadway anecdote from 2009 that she had to be warned not to dance too near the edge of the stage.
"[Co-star] Rupert Everett was always afraid I was going to fall into the stalls," she laughs.
Angela Lansbury was born in Poplar, east London, in 1925. After moving to the US during World War Two, she signed as an actress with MGM in 1943.
She earned the first of three best supporting actress Oscar nominations for her debut film, Gaslight (1944).
She went on to play roles as diverse as Miss Eglantine Price in Bedknobs and Broomsticks, Elvis Presley's mother in Blue Hawaii, the scheming Eleanor Iselin in The Manchurian Candidate and a singing teapot in Disney's Beauty And The Beast.
On Broadway in 1979, she originated the role of Mrs Lovett in Stephen Sondheim's Sweeney Todd: The Demon Barber of Fleet Street.
She is, however, best known as Jessica Fletcher, the bestselling author and amateur detective from TV series Murder, She Wrote. The show ran from 1984-1996 and continues to be repeated around the world.
Dame Angela hopes that theatre fans who only know her from Murder, She Wrote will accept her in another role.
"Hopefully I can pull them into my dramatic trap, and make them forget Jessica Fletcher for two hours and introduce them to Madame Arcati.
"The main thing is to entertain. That's why we get up and make asses of ourselves on stage."
Joining her in Blithe Spirit, directed by Michael Blakemore, are Charles Edwards, Simon Jones, Sandra Dickinson, Janie Dee and Jemima Rooper, who plays Elvira, the ghost Madame Arcati unwittingly summons.
"Madame Arcati is a rare, fantastic role," says Dame Angela. "Noel Coward knew how to write those extraordinary women.
"Over the course of a long life in the theatre and movies and television I've played so many different parts.
"That's been the spice of my career - that I didn't play the same role all the time. I'm a character actor. Even as a little girl I was always pretending to be somebody else."
As she prepares to begin rehearsals, Angela Lansbury is also adjusting to her new role as a dame - the female equivalent of a knighthood.
"In the States they really don't know how to use the term, they tend to call you Dame Lansbury instead of Dame Angela," she says.
"I'm just learning the protocol now, but I'm very proud to be a dame and join an illustrious group of women."
Blithe Spirit begins previews at the Gielgud Theatre on 1 March.