West End stars downplay theatre safety issue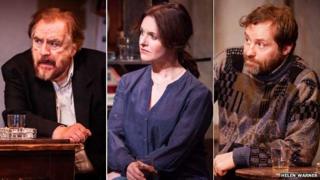 Theatre audiences are "a hardy lot" who will not be put off by recent incidents at London venues where patrons have been injured, according to the stars of a newly opened West End show.
Their remarks followed the collapse of a ceiling in the West End in December and a set collapse in Camden last week.
"It'd take something bigger than that to stop people coming," said Ardal O'Hanlon, who stars in The Weir.
"Theatregoers are a hardy lot and I don't think that will put them off."
"You'd have to have a lot of bad luck for that to happen again," agreed his co-star Dervla Kirwan after Tuesday's first night performance at the Wyndhams theatre.
"I cannot guarantee the Wyndhams is invulnerable to an act of god," she added, "but I think it's pretty safe."
Nearly 80 people were injured when plasterwork from the Apollo's ornate ceiling fell during a performance of The Curious Incident of the Dog in the Night-Time on 19 December.
The incident prompted a discussion on theatre safety that resurfaced again last week when part of a set fell onto the audience during a performance of Fuerzabruta at the Roundhouse in north London.
Three members of the public and a performer were injured when a piece of moving stage equipment fell slowly into an area where audience members were standing.
According to The Weir's director Josie Rourke, though, the unrelated incidents will not have an adverse effect on theatre attendance.
'One-off'
"What happened with Curious Incident was a big shock for everyone," she said. "But I think people feel it was a bit of a one-off and feel quite robust about it."
The Wyndhams, she went on, was "a beautiful theatre that's been recently refurbished, so there wasn't really a thought in our heads about theatre safety."
There was little trepidation on display amongst the star-studded audience at the official opening of The Weir's West End transfer on Tuesday.
Actress Fiona Shaw, the BBC's Andrew Marr and Oscar-winning director Tom Hooper were among those who came to see Rourke's five-strong cast recreate a production first seen at the Donmar Warehouse last year.
Film-maker Stephen Frears, Call the Midwife star Jessica Raine and Kirwan's actor husband Rupert Penry-Jones were also in attendance to watch the revival of Conor McPherson's 1997 play, in which the patrons of a rural Irish bar swap stories of a supernatural bent.
Brian Cox plays Jack, the oldest and feistiest of the five characters, and believes the production has become "a different show" since it was first staged last April.
"We had such a success with it at the Donmar where it was played in such an incredibly intimate and personal way," said the 67-year-old Scot.
"But it had to go to another level. It's much more visceral now, and the anger and the rage of the characters is much more present."
"I think the relationships are stronger and we trust each other more," added Kirwan. "There's just more muscle to it."
According to O'Hanlon, however, moving from the Donmar's intimate studio space to a larger theatre beside a busy main road has its drawbacks.
"There's a bit where it's very quiet and we're all having a fag and I say, 'Do you hear a car?'" the former Father Ted star told reporters.
"We were doing it the other night and all you could hear was sirens outside blaring on the street."
The Weir - described as "unmissable" by the Evening Standard's Fiona Mountford - continues at the Wyndham's until 19 April.