Venetian masterpiece acquired for the UK in tax scheme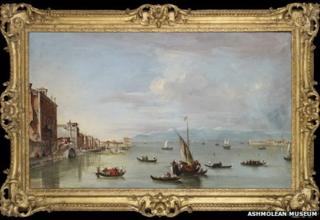 An 18th Century painting by Venetian artist Francesco Guardi is to be displayed in public for the first time at Oxford's Ashmolean Museum.
The masterpiece, painted in 1758, has been acquired through the government's Acceptance in Lieu (AIL) scheme.
It allows an inheritance tax bill to be paid by transferring important works of art and cultural objects to the nation.
Venice: The Fondamenta Nuove with the Lagoon and the Island of San Michele cleared a bill of nearly £2 million.
"The fact that this stunning painting has been largely unseen by the public before now demonstrates the importance of the Acceptance in Lieu scheme," said Sir Peter Bazalgette, Chair of Arts Council England, which oversees the scheme.
"Many members of the public will now have the chance to view and interpret this important piece at the Ashmolean when its fate could very easily have meant that is was lost forever from history," he added.
A grant from the Art Fund, together with contribution s in memory of Jo Wilson and the Sir Denis Mahon Charitable Trust helped to make up the difference in value and buy the painting for the Ashmolean.
Guardi (1712-1793) was born into a family of painters in Venice and is best known for his views of the city, which were especially popular with British tourists visiting Italy.
The oil on canvas painting is one of his early lagoon views depicting the northern shore of Venice, the island of San Michele and the distant snow-capped hills of the Italian mainland.
"This painting brings to the Ashmolean a poetic masterpiece in which Francesco Guardi reveals his full artistic potential," said the museum's director, Professor Christopher Brown.
"As the first major Venetian view-painting to enter the Museum's collection it makes an inspirational addition to the Britain and Italy Gallery.
"We are profoundly grateful to the Arts Council, the Art Fund, and other supporters for making this acquisition possible," he added
In the past two years the AIL Scheme has brought more than £80 million of treasures into public ownership.