Coronation Street: Hayley Cropper's final scenes hailed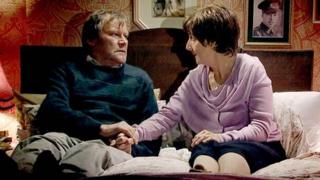 The final scenes of long-running Coronation Street character Hayley Cropper have been praised by critics as brave and emotionally charged.
The Telegraph called her exit "brave and moving", as she took her own life to end the pain of terminal cancer.
The Daily Mail's review praised the "sensitive acting" of actors David Nielsen, Hayley's devoted husband Roy, and outgoing star Julie Hesmondhalgh.
A peak audience of 10.2 million people tuned in to watch her final moments.
The two-part story had an average audience of 9.6 million for the first episode at 1930 GMT and 9.4 million at 2030 GMT.
Monday night's episodes culminated in Hayley carrying out her wish to die rather than suffer from pancreatic cancer.
She took her own life with a cocktail of drugs while Roy was by her side, and ensured that he took no direct part in hastening her death.
The character of Hayley, who has walked the cobbles of Coronation Street for 16 years, spent time saying her own farewells to close friends, keeping her decision a secret from everyone but her husband.
Ben Lawrence, writing in the Telegraph, said the episodes were "something special".
Her death "was not handled with the customary swiftness that defies us to empathise - we were in that flat with Hayley and husband Roy living every tragic moment," he said.
With reference to the right to die debate encapsulated in the drama, Lawrence added: "With this storyline, handled with bravery and nuance, Coronation Street has made considerable progress in the debate."
The Independent's Ellen E Jones said the issue was explored "without compromising the emotional truth of two much-loved characters," adding Hayley's "decision to die looked neither easy nor unambiguously noble".
Lucy Mangan, writing in The Guardian, said the two episodes were "finely scripted" and featured "some of the best performances the cobbles have ever seen".
"Goodbye Hayley, and goodbye Julie Hesmondhalgh. And thank you for everything," she concluded.
She also looked back on the partnership between Roy and Hayley and their "years of loving, careful, delicate performances".
Hayley was the first transgendered character in British soap history, who found love with the socially awkward cafe owner and forged a steadfast alliance.
David Nielsen's performance was singled out by some critics, with Christopher Stevens in the Daily Mail saying he was "speechless with grief" but had "eloquent eyes".
The Telegraph's Lawrence said Nielsen's acting "beautifully captured the internal anguish of a quiet man".
Other actors from Coronation Street took to Twitter as the drama unfolded, with Catherine Tyldesley, who plays Eva Price, saying: "I've cried to the point of feeling sick".
Antony Cotton, whose character Sean Tully worked with Hayley at the street's underwear factory, said: "Wow. That was quite something. Powerful stuff. Exhausted watching it. Well done one and all".
Hesmondhalgh, from Accrington in Lancashire, has spoken out in support of tackling the right to die issue through her soap exit, saying it was a "real privilege" to play and that she had "always really understood Hayley's decision.
Speaking on BBC Breakfast on Monday, she admitted the final scenes would be a "hard watch".
After being Coronation Street regular since 1998, the actress is now starring on stage at Manchester's Royal Exchange Theatre in the play Blindsided.
If you have been affected by the issues this story has raised and would like to speak to someone, you can contact the Samaritans on 08457 90 90 90 or visit their website.