Katherine Jenkins returns to roots in new album deal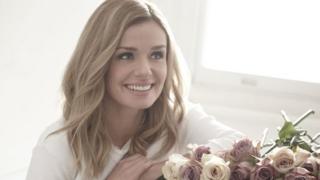 Singer Katherine Jenkins is to return to the record company that helped launch her singing career 10 years ago.
The Welsh mezzo-soprano announced on Monday that she had signed a three-album deal with Universal-owned Decca Records.
Jenkins parted ways with record label, Warner Bros, in 2013 at the end of a three-album deal.
"It's a new year, and a new era," said Jenkins, who became an OBE in the New Year's Honours.
"It feels not only very exciting but very special to be returning to Decca - a decade after they first signed me - and to many of the people who helped launch my career."
She added: "It amazes me to think that will be my 10th album, and for this it seems the perfect place to be going 'home' to."
At a launch event at London's The Ritz hotel, Jenkins told the BBC that her next album, due to be released in the autumn, would be a return to her roots.
"Over the years I've been able to experiment and try new things and through that process I know exactly who I am, what I want to do and what I don't want to do.
"That's why I feel that this 10th album will be a return to style of the earlier albums. If you enjoyed my first few albums then this is the album for you."
Her debut release in 2004, Premiere, blended classical songs and Welsh hymns and went to number one in the Classical Album chart.
Jenkins, 33, who has sold more than eight million albums over her career, said the classical crossover genre had "really developed" over the past 10 years.
"People clearly like that kind of music, it shows in the number of sales," she said.
"Yes, there will always be the core classical critics who want to keep it as an elitist thing but I've always believed that it should be for everybody and I want to make it as accessible as possible, as I come from a normal background."
Reflecting on 10 years in the music business, Jenkins said was glad she had heeded some words of advice when she had first started out.
"Someone said to me at the beginning - 'stay true to yourself'. If you pretend to be something you're not it's going to be a really hard act to keep up.
"I'm so glad I listened to that. When you go to these photo shoots and someone says 'lets try a sexier image', [I know] that's not really me.
"So you've got to know who you are and what you want because those images are going to be around for ever."
Jenkins signed to Warner in 2008 in a three-album deal reported to be worth around £5.8m.
Her first two albums released under Warner - Believe and Daydream - both reached number six in the UK album chart.
Her last album, This is Christmas - released in December 2012 - peaked at number 26.
Last year, the singer took to Twitter to deny press reports that she had been dropped by Warner over "diva demands" and poor album sales.