Gareth Malone and Kate Adie voice BBC WW1 guides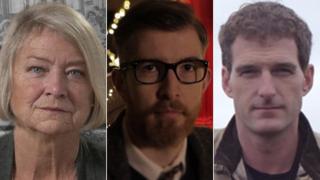 Historian and presenter Dan Snow, The Choir's Gareth Malone and broadcaster Kate Adie are among those voicing a new series of interactive guides on World War One.
Using original material, they have been created by new BBC educational brand iWonder, to coincide with the launch of the BBC's World War One season.
Radio 1 DJ Greg James, The One Show's Matt Baker and TV doctor Michael Mosley also look into aspects of the war.
Eight of the 25 guides are now online.
Among them, Adie's guide tackles how the war affected the status of women, while Mosley discusses the plastic surgery techniques pioneered to help fix faces destroyed by shrapnel.
The next 17 will be added to the site by the end of January, designed to work on laptops, tablets and smartphones and "reintroduce audiences to a war they think they know", according to Tim Plyming, executive producer for BBC knowledge and learning.
Malone examines how the song Pack up Your Troubles became so popular, poet and journalist Ian McMillan will look into the role of poetry in the war and and BBC Security correspondent Frank Gardner explores why journalists were threatened with execution during the conflict.
Historian Snow will narrate a guide looking at how soldiers survived such terrible conditions in the trenches.
"I'm fascinated by the stories of trench warfare. We hear a lot about how soldiers died, so I wanted my iWonder guide to take an in-depth look at how soldiers survived the trenches," said Snow.
"The new format gives me the opportunity to present a view on this subject in an engaging and innovative way."
The Today programme's Mishal Husain, Radio 3's Tom Service and former politician Michael Portillo have also voiced guides.
"The guides span life in the trenches to poetry and propaganda and we hope each one will educate and inform the curious novice as well as the history buff," said Plyming.
The BBC has commissioned more than 2,500 hours of programmes over the next four years to mark the anniversary of the war, including Jeremy Paxman's Britain's Great War for BBC One.
More iWonder guides will be launched throughout 2014 covering subjects from science to natural history, to arts and religion.