Channels cleared over radical Anjem Choudary interviews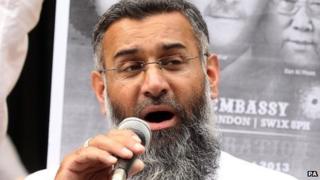 Ofcom has cleared the BBC, ITV and Channel 4 over interviews with radical cleric Anjem Choudary in the wake of the murder of Drummer Lee Rigby.
The watchdog ruled that three news programmes had not breached rules in allowing Choudary to express his views.
But it concluded that broadcasters must "challenge and contextualise" any controversial opinions they air.
Ofcom received more than 20 complaints in May 2013 from viewers who felt the preacher's opinions were offensive.
They were also concerned about offending the soldier's family and that the interviews would incite hatred against Muslims.
During interviews on Newsnight, Daybreak and Channel 4 news, Choudary refused to condemn the killing and admitted to knowing one of Fusilier Rigby's murderers, Michael Adebolajo.
But Ofcom's investigation found the broadcasters had challenged his views on air and pointed out he represented a minority.
They adjudicated that broadcasting codes do not "prohibit particular individuals from appearing on UK television and radio just because their views or actions have the potential to cause offence".
Ofcom also noted that the three interviews were conducted in a context of current affairs, "where the timely and comprehensive coverage of ongoing news stories may require individuals or organisations with challenging views to be given airtime".
New investigation
Fusilier Rigby was killed on 22 May in Woolwich, south-east London.
Michael Adebolajo, 28, from Romford, east London, and Michael Adebowale, 22, from Greenwich, south-east London, were convicted of his murder in December and are awaiting sentence.
During an interview with Kirsty Wark on BBC Two's Newsnight on 23 May - one day after the attack - Choudary said he had encountered Adebolajo at a number of Islamist demonstrations.
"When I saw what took place I was shocked... but what he said in the clip, I think not many Muslims can disagree with," he said.
Wark made repeated attempts to get Choudary to condemn the killing.
Separate interviews with Choudary were broadcast on Channel 4 News on 23 May and ITV's Daybreak on 24 May which viewers also found offensive.
Ofcom, meanwhile, is to investigate Channel 4 News, 5 News and Sky News after their news coverage of the Woolwich murder trial verdicts in December.
Interviews on the programmes with Muslim cleric Omar Bakri Muhammed and Jeremiah Adebolajo, brother of one of the killers, prompted a small number of complaints from viewers.