Ride Along beats Jack Ryan to US box office number one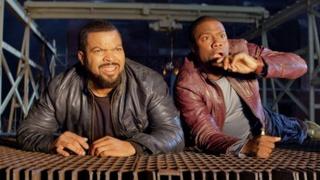 Cop buddy comedy Ride Along has easily beaten political thriller Jack Ryan to the top of the US box office chart.
The film, starring Kevin Hart and rapper Ice Cube, took $41.2m (£25m) in its first week of release.
Jack Ryan: Shadow Recruit, featuring Chris Pine as novelist Tom Clancy's character, floundered in fourth place with $17.2m (£10.4m).
It was beaten by animation Nut Job and Lone Survivor, last week's chart topper which slipped to number two.
Ride Along, which was also produced by Ice Cube, soared past its forecast of $28m (£17m) and was the biggest debut on record for the three-day Martin Luther King holiday in the US.
Universal Pictures, who distributed the film, said the release was well timed.
Nikki Rocco, the company's head of domestic distribution, said the film was a hit with male and female audiences and had become a choice for date nights.
Actor Chris Pine, best known for his role as Captain Kirk in the 2009 Star Trek reboot and its sequel, is the fourth star to play Jack Ryan.
Ben Affleck, Alec Baldwin and Harrison Ford have previously portrayed the character in hits including The Hunt for Red October and Patriot Games.
The latest outing, which sees Ryan in his formative years, took several years to come to the screen while Pine was making Star Trek.
In the wake of Thursday's Oscar nominations, 12 Years a Slave and Gravity returned to cinema screens having already ended their runs.
American Hustle was in sixth spot and Frozen was just ahead of it at five, with takings of $12m (£7.2m).
Academy Award contenders August: Osage County, starring Meryl Streep, Saving Mr Banks and Martin Scorsese's film The Wolf of Wall Street also feature in the box office top 10.