Tate Modern announces new Turbine Hall sponsor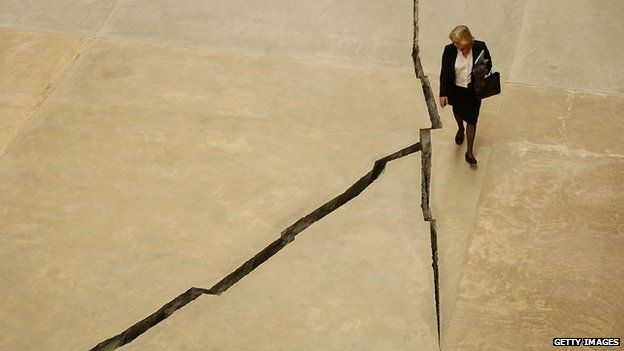 Car manufacturer Hyundai is to take over as the sponsor of Tate Modern's Turbine Hall, culture secretary Maria Miller has announced.
The Korean firm has made an unprecedented 11-year commitment to funding the space, starting in 2015.
Ai Weiwei famously filled the hall with millions of porcelain sunflower seeds, while Olafur Eliasson installed a giant yellow artificial sun.
The space has been without a sponsor since Unilever took leave in 2012.
Tino Sehgal was the last artist to tackle the hall, with These Associations, a "live" work of art that saw visitors swept up in impromptu dances, races and conversations.
There was no new commission in 2013, and it is not expected that a new work will fill the Turbine Hall, which is the entrance to the Tate Modern, until Hyundai takes over next year.
The 11-year partnership is the longest initial commitment from a corporate sponsor in Tate's history.
Director Nicholas Serota said the partnership provided an "unprecedented opportunity to plan for the future".
He told the BBC: "These deals are essential. We've seen a reduction in government grant. The great significance is it allows us to plan a series of commissions: we know we can do it; we have the money to do it."
Hyundai Motor's vice chairman Euisun Chung added: "We are excited about the new possibilities that lie ahead and are very privileged to be working together with the Tate on this inspiring collaboration."
The company has also supported a major acquisition of video art by South Korea's Nam June Paik.
Considered the father of video art, Paik coined the phrase "electronic superhighway" in 1974 and was the first artist to experiment with the platform of television, seeing it as an open canvas on which many more artists would one day construct their works.
Nine works, spanning his entire 40-year career, have now entered the Tate's permanent collection, and will go on display later this year.
Monday also marks the completion of a new bridge across the top of the Turbine Hall, which will link the gallery to a new wing, housed in a separate state-of-the-art building.
The £215m project, which has been delayed from its original 2012 opening to 2016, will increase Tate Modern's size by 60%, adding 21,000 sq m of new space.
The new space will increase visitor capacity - although Tate Modern is already the most-visited contemporary art gallery in the world.
A record 5.5 million people took in the collection in 2012-13, driven in part by a popular retrospective of Damien Hirst's artwork.
Related Internet Links
The BBC is not responsible for the content of external sites.