Roddy Doyle teams up with Roy Keane for autobiography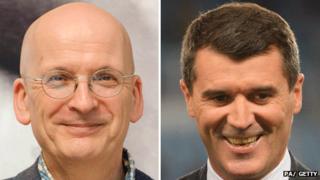 Booker prize-winning author Roddy Doyle has signed up to collaborate with former Manchester United midfielder Roy Keane on his forthcoming autobiography.
It is thought Keane could use the book to address criticisms made by ex-United manager Alex Ferguson in his memoirs.
Irish author Doyle won the Booker in 1993 for Paddy Clarke Ha Ha Ha.
Also known for The Commitments, he has only one other non-fiction work to his name: Rory and Ita, a collection of first-hand stories from his parents.
The gentle, rather ordinary tales of Irish life will presumably be in stark contrast to Keane's book.
His first volume of autobiography, co-written with journalist Eamon Dunphy, was described as "unrepentant and relentlessly angry" by reviewers.
The Second Half, which is due in the autumn, is billed as a blend of "memoir and motivational writing in a manner which both disquiets and reassures, in Roy Keane's own original voice".
Doyle said he was "delighted to be writing this book with Roy" and that he had long been aware of the footballer's international reputation.
"Ten years ago I was buying something in a shop in New York and I handed my credit card to the young African man behind the counter," he said.
"He read Bank of Ireland on the card, looked at me and said: 'Ireland - Roy Keane.'"
'Savage tongue'
Keane, now assistant manager of the Republic of Ireland and a pundit for ITV, left United in 2005 following a controversial interview with in-house television channel MUTV in which he openly criticised his team-mates.
In his 2013 book, Ferguson labelled the incident "unbelievable" and called Keane "a man of extremes".
He went on to claim that Keane, who played a key role in the club's success during his 12-year stay at Old Trafford, became an increasingly negative influence.
"The hardest part of Roy's body is his tongue," he wrote. "He has the most savage tongue you can imagine.
"He can debilitate the most confident person in the world in seconds. He was an intimidating, ferocious individual."
Keane responded that he was "relaxed" about the criticisms.
He said: "To constantly criticise other players that brought him success… I won't be losing any sleep over it.
"I remember having conversations about loyalty when I was at the club. I don't think he knows the meaning of the word."
Ferguson's book went on to become the best-selling print title of 2013, shifting more than 647,000 copies in the run-up to Christmas.
Keane's tome, described by publishers as a motivational book that "re-evaluates the meaning of success", could provide the opportunity to settle some scores.
But he is playing his cards close to his chest, issuing a simple, neutral statement: "I am very happy to be working with Roddy Doyle on this book, and look forward to the experience."
Alan Samson, from publishers Orion said the book would be "a benchmark for sports autobiography".
"The combination of an outstanding player - and leader - like Roy with a writer of Roddy's extraordinary gifts should result in one of the books of the year," he added.