Roger Lloyd Pack's memorable lines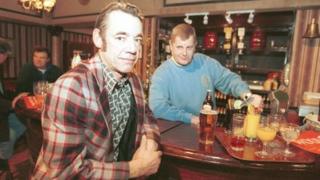 Best known as the lovable simpleton Trigger in Only Fools and Horses, Roger Lloyd Pack, who has died aged 69, had another regular role as coarse farmer Owen Newitt in The Vicar of Dibley.
Below are some of his most memorable lines from the shows.
Only Fools and Horses
Discussing the name of Del and Raquel's unborn child:
Trigger: "If it's a girl they're calling her Sigourney after an actress, and if it's a boy they're naming him Rodney after Dave."
In the Nag's Head pub:
Mike: "I've had certificates for my beer."
Trigger: "Yeah, I've had a few days off work with it as well."
The road-sweeper discussing his trusty broom:
Trigger: "And that's what I've done. Maintained it for 20 years. This old broom's had 17 new heads and 14 new handles in its time."
Sid: "How the hell can it be the same bloody broom then?"
Trigger: "There's the picture. What more proof do you need?"
At a school reunion:
Del Boy: "We had Denzil in goal, we had Monkey Harris at left-back, we had... camaraderie."
Trigger: "Was that the Italian boy?"
After Rodney warns against eating beef:
Trigger: "I don't know what you're worried about. I've been eating British beef all my life."
About his father:
Trigger: "He died a couple of years before I was born."
Arriving at the council tip to find it closed:
Del Boy: "You said it was open 24 hours a day."
Trigger: "Yeah, but not at night."
Outside court:
Trigger: "When I go in there, I'll just say I hear voices."
Denzil: "Trigger, you're not on trial, you're a character witness."
Trigger: "I know. But I still hear voices."
The Vicar of Dibley
On his mental condition:
Owen: "I am not a lunatic. I have the psychiatric report to prove it. A slender majority of the panel decided in my favour."
After arriving characteristically late to a parish council meeting :
Owen: "Sorry for being late but I made the mistake of going to my toilet today and it hasn't been flushed for 10 days. I've only just regained consciousness."
Planning a challenge to a villager's council election campaign:
Owen: "He's as doomed as a virgin on a date with Rod Stewart."
Rehearsing the nativity play:
Geraldine: "Now Alice, you're playing Mary - you're young, you're unmarried, you're a virgin, and yet you find out you're pregnant."
Owen: "That happened to my cousin Sally."
Geraldine: "No it didn't, Owen."
Owen: "She gave birth three times but she never ever had sex with a man."
Jim: "Except me."
Frank: "And me."
Owen: "And me, if I'm honest."