Oscars: 10 things about the nominations
By Tim Masters
Entertainment and arts correspondent, BBC News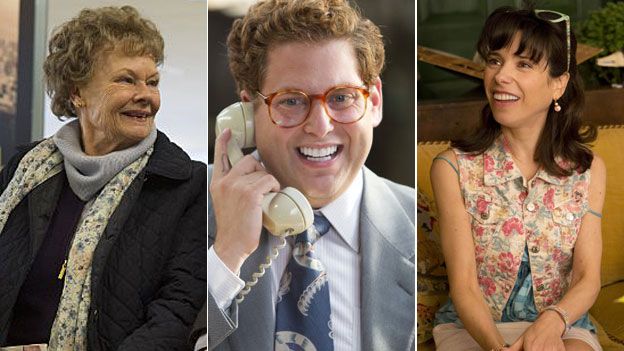 The Oscar headlines are dominated by American Hustle, 12 Years a Slave and Gravity - but here's a closer look at the certainties, surprises and shocks amongst this year's crop.
1. The best picture list is a diverse as ever
A 3D space thriller (Gravity). A black-and-white road movie (Nebraska). A harrowing historical drama (12 Years a Slave). And the story of a man who falls in love with his computer operating system (Her) .
Just some of the candidates that have made the final nine for this year's Oscar best picture category.
The bookies have already installed 12 Years a Slave - which has nine nominations - as the favourite. It's followed by crime drama American Hustle and Gravity, the nerve-shredder about stranded astronauts, which lead the pack with 10 nods each.
But multiple nominations do not always guarantee a glittering night.
Last year Steven Spielberg's biopic Lincoln failed to deliver on its 12 nominations, winning just two - for best actor and best production design.
And in 2011 the Coen brothers' True Grit bit the dust, failing to win a single prize despite 10 nominations.
2. Hustle's ensemble cast triumphs again
Director David O Russell has pulled off the same trick he managed with Silver Linings Playbook last year by getting nominations in all four acting categories.
His stars, Christian Bale, Amy Adams, Bradley Cooper and Jennifer Lawrence, were also recognised in last week's Bafta nominations.
But there's stiff competition.
Bookies tip Chiwetel Ejiofor to win best actor for his turn as Solomon Northup in 12 Years a Slave, while Cate Blanchett, who plays a New York socialite fallen on hard times in Woody Allen's Blue Jasmine, has been the runaway favourite for best actress for months.
The absence of Tom Hanks from the best actor race is one of the biggest shocks, missing out for his role in Somali piracy thriller Captain Phillips. Hanks has received both Bafta and Screen Actors Guild (Sag) nominations, which makes the omission all the more conspicuous.
Though Captain Phillips is up for best picture, Paul Greengrass was squeezed out of the best director race.
Emma Thompson, considered a front-runner for her role as Mary Poppins creator PL Travers in Saving Mr Banks, is another notable absence. In the end, Saving Mr Banks came away with just one nomination - for original score.
Idris Elba was another high-profile British miss for his well-received portrayal of Nelson Mandela in Mandela: Long Walk to Freedom.
Despite early buzz, Robert Redford's almost wordless performance as a stranded sailor in All is Lost didn't make the final cut.
And Inside Llewyn Davis, the Coen brothers' love letter to the New York folk scene of the 1960s, was locked out of best picture and best original screenplay. It got two nods, for cinematography and sound mixing.
4. Which films got nothing?
Even the backing of Hollywood heavyweight Harvey Weinstein could not rescue Lee Daniels' The Butler from the Oscar wilderness.
It should have been perfect Academy fodder: an American story, told through the eyes of an African-American servant, with lots of A-list actors heavily made up as US presidents.
Oprah Winfrey was considered something of a shoo-in for best support actress.
Ron Howard's motor-racing drama Rush also drew a blank. Not great news for its star Chris Hemsworth, who was invited to read out this year's Oscar nominations.
5. Surprises and celebrations
It's a good day for The Wolf of Wall Street - the longest and sweariest film on the best picture list, which crams more than 500 uses of the f-word into its almost three-hour running time.
Martin Scorsese's sex-and-drugs marathon also snorted up nods for best director, best actor (Leonardo DiCaprio) and a slightly unexpected supporting nod for Jonah Hill, as well as an adapted screenplay slot for Terrence Winter.
After her Bafta nomination, many will be pleased to see Sally Hawkins in the best supporting actress race for her role as Ginger in Blue Jasmine, opposite the scene-stealing Blanchett.
Philomena was never a certainty for best picture but the 6,000 Academy voters said "yes", as well as putting Dame Judi Dench up for leading actress. It gained additional nods for original score and adapted screenplay.
Among the less familiar faces in the acting categories are Barkhad Abdi and Lupita Nyong'o, both making their movie debuts.
Abdi plays Somali pirate leader Muse opposite two-time Oscar-winner Hanks in Captain Phillips. The son of a teacher, he fled Somalia's civil war aged seven and was working as a chauffeur in the US when he was cast by director Paul Greengrass.
Nyong'o has been acclaimed as her role as Patsey, a young slave girl working on a cotton plantation in Louisiana in 12 Years a Slave. Her previous acting experience was in the Kenyan TV series Shuga.
7. An old face is back...
Bruce Dern, who plays cantankerous Woody Grant in Nebraska was last nominated for an Oscar 35 years ago - for his supporting actor role in 1978's Coming Home.
8. ... and so is Mickey Mouse
The veteran cartoon mouse dates back to 1928, making him 86 years old. But he stars in Disney's Get a Horse! which is up for best animated short.
The film, which combines hand-drawn animation with computer graphics, has been shown in cinemas before Disney's box-office smash Frozen (also up for best animated feature).
Don't underestimate this one. Disney won the animated short prize last year with the 3D romantic comedy Paperman.
9. A film starring Martin Freeman is nominated (and it's not The Hobbit)
Martin Freeman and Rev star Tom Hollander appear in British short The Voorman Problem, directed by Mark Gill.
Freeman plays a doctor called in to examine the enigmatic Mr Voorman, a prisoner with a peculiar affliction: he believes he is a god.
If the title sounds familiar, The Voorman Problem was also up for a Bafta last year.
Just for the record, The Hobbit: The Desolation of Smaug has received nominations in three technical categories.
10. Will the Oscars feel the force of Gravity?
When it comes to the Oscars, science-fiction films are rarely rewarded outside the technical categories. So sci-fi fans will be wondering what chance Alfonso Cuaron's Gravity has of taking the top prize.
Oscar history shows that sci-fi films haven't fared well when up for best picture.
C-3PO may be a dead ringer for the golden Oscar statuette, but the original Star Wars (1977) lost the best picture prize to Woody Allen's Annie Hall.
In 1982, Steven Spielberg's blockbuster ET: The Extra-Terrestrial was beaten by Gandhi.
In 2010, District 9 and 3D juggernaut Avatar both lost out to low-budget bomb disposal drama The Hurt Locker. The following year, Inception lost to The King's Speech.
So could Gravity be the sci-fi film to reach for the stars - or will it come down to Earth with a bump?
All will be revealed in Hollywood on 2 March.
Additional reporting by Kev Geoghegan.
Related Internet Links
The BBC is not responsible for the content of external sites.