Oscar nominees attend Critics' Choice Awards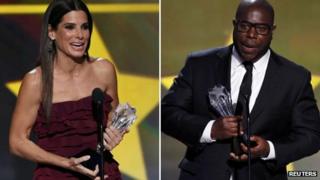 A host of Oscar nominees came together for the Critics' Choice Movie Awards in Los Angeles on Thursday, which saw Gravity win a record seven prizes.
The awards are a likely indicator of Oscar success and have predicted many of the winners in recent years.
Gravity was named best sci-fi film, while Alfonso Cuaron won best director and Sandra Bullock took best actress in an action movie.
However, 12 Years a Slave collected the coveted best picture prize.
Determined by the Broadcast Film Critics Association, the best picture winner has gone on to win the best picture Oscar in six of the past seven years.
The ceremony saw Matthew McConaughey and Cate Blanchett win the top acting awards for their performances in Dallas Buyers Club and Blue Jasmine.
The pair also both won Golden Globes for their roles at the weekend.
McConaughey thanked the late Ron Woodroof, whom he portrayed on screen, saying he had "a life that was damned well worth putting to the big screen".
12 Years a Slave star Lupita Nyong'o was named best supporting actress, while McConaughey's co-star Jared Leto picked up best supporting actor.
Leto, who plays a transsexual woman in the Aids drama, dedicated his award to "all the people around the world who are living with HIV [and] all the people who have lost their lives to this horrific disease".
American Hustle - which received 10 Oscar nods - collected four awards in total, including best comedy film, acting ensemble, hair and make-up and best actress in a comedy for Amy Adams.
Leonardo DiCaprio followed up his Golden Globe win another best actor in a comedy prize for The Wolf of Wall Street.
Mark Wahlberg picked up best actor in an action film for war film Lone Survivor, which also collected best action film.
French film Blue is the Warmest Colour won the best foreign language film award, with its star Adele Exarchopoulos named best young actress.
Speaking ahead of the ceremony, Oscar talk dominated the red carpet from the nominees.
American Hustle director David O Russell said he was "very grateful to be part of it all", while 12 Years a Slave director Steve McQueen said he was "happy to be amongst" the best picture shortlist.
British 12 Years a Slave star Chiwetel Ejiofor - who is Oscar nominated for best actor - said the day had been "completely thrilling".
"It was excellent and I was so excited, obviously for myself, but I was excited for everybody in the film and in the project."
Bruce Dern, who is nominated for his role in Nebraska, added: "It's nice to have your fellow teammates stand up and say, 'Hey, you had a good year, congratulations'."
The complete list of winners:
Picture - 12 Years a Slave
Actor - Matthew McConaughey, Dallas Buyers Club
Actress - Cate Blanchett, Blue Jasmine
Supporting actor - Jared Leto, Dallas Buyers Club
Supporting actress - Lupita Nyong'o, 12 Years a Slave
Young actor/actress - Adele Exarchopoulos, Blue Is The Warmest Colour
Acting Ensemble - American Hustle
Director - Alfonso Cuaron, Gravity
Original screenplay - Spike Jonze, Her
Adapted screenplay - John Ridley, 12 Years a Slave
Cinematography - Emmanuel Lubezki, Gravity
Art direction - Catherine Martin (production designer), Beverley Dunn (set decorator), The Great Gatsby
Editing - Alfonso Cuaron and Mark Sanger, Gravity
Costume design - Catherine Martin, The Great Gatsby
Hair and make-up - American Hustle
Visual effects - Gravity
Animated feature - Frozen
Action movie - Lone Survivor
Actor in an action movie - Mark Wahlberg, Lone Survivor
Actress in an action movie - Sandra Bullock, Gravity
Comedy - American Hustle
Actor in a comedy - Leonardo DiCaprio, The Wolf of Wall Street
Actress in a comedy - Amy Adams, American Hustle
Sci-fi/horror movie - Gravity
Foreign language film - Blue Is the Warmest Colour
Documentary feature - 20 Feet From Stardom
Song - Let It Go, Robert Lopez and Kristen Anderson-Lopez, Frozen
Score - Steven Price, Gravity