Mark Strong to star in Arthur Miller play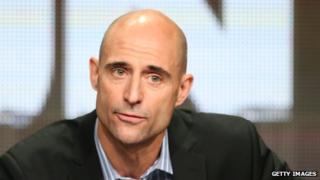 Zero Dark Thirty actor Mark Strong is returning to the stage after a 12-year absence to play the lead in Arthur Miller's A View from the Bridge.
Strong, whose other films include Tinker, Tailor, Soldier, Spy, will star as Eddie Carbone, the tragic hero of Miller's Waterfront drama.
Nicola Walker will play Eddie's wife, Beatrice, in the Young Vic production.
Walker won an Olivier award last year for her performance in The Curious Incident of the Dog in the Night-Time.
She played the mother of lead character Christopher Boone in the National Theatre's adaptation of Mark Haddon's best-selling book.
Walker also stars in BBC One's hit drama, Last Tango in Halifax, while Strong's TV credits include The Long Firm and Prime Suspect.
Belgium's Ivo van Hove will direct A View from the Bridge, which opens at the Young Vic on 4 April.
The director of Dutch theatre company Toneelgroep, van Hove is best known for adapting screenplays for the stage and was the first theatre director to secure rights to adapt the works of film-makers Antonioni, Ingmar Bergman, John Cassavetes and Luchino Visconti.
His theatrical adaptation of Bergman's Scenes from a Marriage played the Barbican in November last year.
The cast for the Miller production also includes Michael Gould, Emun Elliot, Phoebe Fox, Richard Hansell, Luke Norris and Jonah Russell.
The play will run until 7 June, 2014.