Frank Skinner turned down Benefits Street narrator job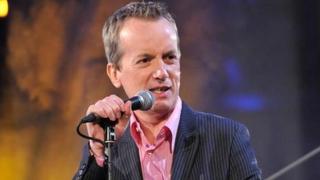 Comic Frank Skinner has said he turned down the job of narrating Channel 4 documentary series Benefits Street.
He told the Birmingham Mail it was because he did not want to be "involved in something where I'm derogatory about people from Birmingham".
Skinner said producers told him the series "would be about 'community spirit' in a street in the city".
Last week, the first episode prompted almost 300 complaints to Ofcom and about 100 to Channel 4.
Viewers of Benefit Street were concerned about the negative portrayal of benefits claimants and the depiction of criminal activity.
One sequence showed two men removing alarm tags from clothing apparently stolen from a shop.
Channel 4 said makers acted in a "purely observational capacity".
Skinner, who grew up in the West Midlands, told the newspaper: "I can imagine there would be a lot of awkward moments in the recording studio when I said 'I'm not going to say that'. I really don't want to be on TV criticising Birmingham."
He added that he had not yet seen the programme and that "from what I've heard I think I made the right decision".
Channel 4 responded by saying the series, which was filmed for more than a year, was a "fair and balanced observational documentary series" and a "fair reflection of the reality of life on a street where the majority of households receive benefits".
It said it was filmed in an area of Birmingham that has had the "highest rate of unemployment in the country for the last eight years".
The broadcaster added: "Time and again the series reveals a community where residents know that, when times get tough, they can turn to each other for help. It is a sympathetic, humane and objective portrayal of how people are coping with continuing austerity and cuts in benefits."
The series is filmed in James Turner Street in the Winson Green area of Birmingham and the first episode was seen by 4.3 million viewers.
Some residents who feature in programme told the BBC last week that the makers have portrayed them negatively.
One said he felt "let down" by the television production company, Love Productions, which made the series.
Inquiries to police
Broadcasting watchdog Ofcom said it would assess the complaints after Benefits Street comes to an end next month, and then decide whether to launch an investigation.
Birmingham police also said they have had inquiries from members of the public concerned with the criminal activity featured in the show, and that officers were assessing whether its content "can assist us as part of any ongoing investigations, or indeed whether any new inquiries should be launched".
Some commentators have criticised Benefits Street for demonising the poorest people in society.
Independent columnist Owen Jones said on Twitter: "As for well-off TV producers trying to further their career by turning the poor against the poor: You. Are. The. Pits."