Sir Ian McKellen pens protest over Russian gay law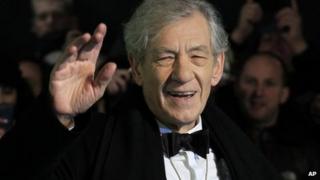 Actor Sir Ian McKellen and 27 Nobel laureates have written an open letter to Russian President Vladimir Putin, asking him to change a controversial law banning "homosexual propaganda".
Leading figures including novelist JM Coetzee signed the letter, devised by Sir Ian and chemist Sir Harry Kroto and given to The Independent.
The Russian law has been criticised by Western rights groups.
Activists said it has led to violence and even suicides among gay people.
"The letter is written to indicate that many senior members of the international scientific community show solidarity with politicians, artists, sports people and many others who have already expressed their abhorrence for the Russian government's actions against its gay citizens," stated the letter.
It has been published in full on The Independent's website.
It added: "Protest is never easy but we hope that by expressing opposition to the new legislation it might be possible to encourage the Russian state to embrace the 21st century humanitarian, political and inclusive democratic principles which Mikhail Gorbachev worked so hard to achieve."
The Hobbit actor Sir Ian, a spokesperson for Lesbian, Gay, Bisexual and Transgender (LGBT) rights, revealed last month that he turned down offers to appear at Russian film festivals after the UK Foreign Office advised him not to speak openly about his sexuality in the country.
Among the 27 Nobel laureates joining Sir Harry and Sir Ian, who signed the letter AKA Henry V/Gandalf, were 1976 Nobel Peace prize winner Mairead Maguire and geneticist Sir Paul Nurse.
The Russian legislation makes it illegal to promote "non-traditional sexual relations to minors", which activists say prevents parents and teachers offering support to gay youths.
Many Russians, however, are sympathetic to the law.
'Grave concerns'
The letter said the law, which was passed on 30 June 2013, "inhibits the freedom" of local and foreign LGBT communities "to speak openly about their sexuality and prohibits Gay Pride celebrations".
There are fears gay foreign athletes could be targeted whilst in Russia to compete in the Winter Olympics next month, which are being held in the Black Sea resort of Sochi.
However President Putin has said they had nothing to fear and would "feel comfortable".
Calls by activists for nations to boycott the Sochi Games have fallen flat, though there has been speculation that some athletes will stage individual protests.
Sir Harry Kroto said he had "enjoyed the tremendous friendship of Russian scientists" during numerous visits, but had seriously considered cancelling his next trip, an invitation which he had accepted before the issue arose.
"I have decided to go and, while in Russia, make my grave concerns clear at appropriate moments by pointing out that I shall not consider any further invitations unless this law is repealed or moves to repeal it are taken and in addition a serious effort is made by the Russian Government to ensure the safety of the Russian LGBT community," said Sir Harry.
In December, Sir Elton John became the first major Western star known for his support of gay rights to perform in Russia since the law was signed.
He interrupted his show to share his views, telling the crowd "in my opinion, it is inhumane and it is isolating."
Russia's Interfax news agency reported that Sir Elton also dedicated the concert to Vladislav Tornovoi, a 23-year-old man tortured and murdered in the southern city of Volgograd.