Christine McVie rejoins Fleetwood Mac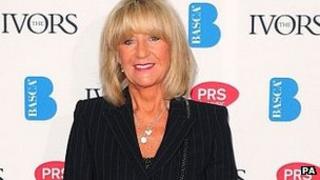 Christine McVie has re-joined Fleetwood Mac, her publicist has confirmed.
Speaking to Billboard magazine, Liz Rosenberg said McVie was back in the band's line up after leaving in 1998.
Rosenberg said McVie "has indeed re-joined Fleetwood Mac and we are hoping to make an announcement about a possible tour for the full tilt Macsters some time in 2014".
McVie had expressed an interest in rejoining the band after performing with them in London last year.
The 70-year-old took to the stage at the O2 in September to play the 1970s hit Don't Stop, which she wrote for the band's multi-million-selling Rumours album.
"I like being with the band, the whole idea of playing music with them," the British singer-songwriter told The Guardian in November. "I miss them all."
McVie played with Fleetwood Mac for 28 years, and wrote some of their most famous songs, including Don't Stop, Say You Love Me, Songbird, Little Lies and Everywhere.
The band have largely refrained from playing her material in her absence - and have not performed Songbird live since 1997.
Born Christine Perfect, McVie married Fleetwood Mac bassist John McVie and joined the group in 1971.
With the recruitment of Stevie Nicks and her boyfriend Lindsey Buckingham in 1975, the group morphed from British blues rockers to freewheeling California-based pop heavyweights.
They were also known for their tangled internal relationships. The McVies divorced in 1976 and Nicks and Buckingham split up shortly afterwards.
Their romantic tensions inspired the album Rumours, which has become one of the biggest selling albums of all time.
After the success of their 1998 live album, The Dance, McVie decided to retire to Kent in England and has largely remained out of the limelight to this day.
When Fleetwood Mac announced their current world tour, singer Nicks said McVie did not want to fly to America so there was little chance of her rejoining the band.
But her recent, one-off appearance at the O2 seems to have reignited her love of performing.
"It was amazing, like I'd never left. I climbed back on there again and there they were, the same old faces on stage," she told the Guardian.
The group cancelled a series of dates in Australia and New Zealand late last year after John McVie was diagnosed with cancer.
McVie told the Guardian her ex-husband's condition was "really good".
"He's having his treatment in LA right now, but they caught it really early so he should be up and running in a couple of months."