E! network apologises over Michael J Fox 'fun fact'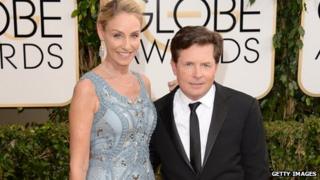 E! Entertainment has apologised after a graphic shown during its Golden Globes coverage listed Michael J Fox's Parkinson's disease as a "fun fact".
The US network's graphic was shown during its live online stream of the red carpet on Sunday, although it was not seen on TV.
Fox was seen entering the Beverly Hills Hilton hotel when the "fun fact'" graphic popped up.
In a statement, the network said "we... sincerely apologise".
The "fun fact" listed stated: "Michael J. Fox was diagnosed with Parkinson's disease in 1991."
'Serious nature'
Fox was nominated for best actor in a comedy for his new NBC programme, The Michael J Fox Show.
E! issued an apology on Sunday evening via The Hollywood Reporter: "We regret the insensitive classification of Michael J. Fox's Parkinson's diagnosis during our E! online live stream. We understand the serious nature of the disease and sincerely apologise."
Viewers who saw the reference took to Twitter to criticise the decision to allow it to go up.
As yet, Fox has not issued any response.
The actor made his name in the 1980s TV comedy Family Ties, winning three Emmy Awards for his role as Nixon-loving, Reagan-worshipping teenager Alex P Keaton.
His movie career took off when he played teen adventurer Marty McFly in the Back to the Future franchise and the horror spoof Teen Wolf.
In the 1990s, the 52-year-old actor's role in TV political comedy Spin City won him an Emmy, three Golden Globes, and two Screen Actors Guild Awards.