Crime writer Jo Nesbo takes on Macbeth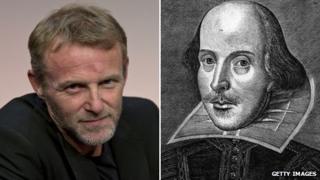 It is a play that contains visions of bloody daggers and probes the darker recesses of the human mind.
So it is perhaps not such a surprise that crime writer Jo Nesbo - creator of the best-selling Harry Hole detective series - has been chosen to retell Shakespeare's murderous tragedy Macbeth.
Nesbo is the latest contemporary author to be commissioned by the Hogarth Shakespeare project to rewrite the Bard's works for a 21st Century audience.
The best-selling Norwegian author said the play's dark themes did not "feel too far from home".
The project launches in 2016 to mark the 400th anniversary of Shakespeare's death.
"Macbeth is a story that is close to my heart because it tackles topics I've been dealing with since I started writing," Nesbo said.
The tragic protagonist of 'The Scottish Play', he continued, was "a main character who has the moral code and the corrupted mind, the personal strength and the emotional weakness, the ambition and the doubts to go either way."
He described Macbeth as "a thriller about the struggle for power, set both in a gloomy, stormy crime noir-like setting and in a dark, paranoid human mind.
"I will not attempt to do justice to William Shakespeare nor the story," he went on. "I will simply take what I find of use and write my own story.
"And, yes, I will have the nerve to call it Macbeth."
Nesbo's books have sold more than 20 million copies worldwide. The Harry Hole novels include The Snowman, The Leopard, Phantom and, most recently, Police.
Already announced as authors on the new Hogarth Shakespeare list are Margaret Atwood, Howard Jacobson, Anne Tyler and Jeanette Winterson.
The writers have been charged with producing new versions of The Tempest, The Merchant of Venice, The Taming of the Shrew and The Winter's Tale respectively.