Sean Bobbitt on 12 Years a Slave: 'The camera does not look away'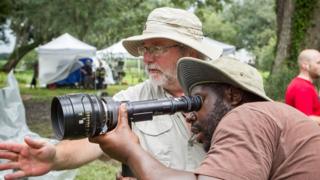 12 Years a Slave doesn't give its audience an easy ride. Sean Bobbitt, its cinematographer, talks about shooting the film's most uncomfortable scenes.
Texas-born Sean Bobbitt has had a busy couple of years. In 2013, his films included The Place Beyond the Pines, Everyday, Byzantium and Oldboy.
But it is his work on Steve McQueen's harrowing historical drama 12 Years a Slave that is getting most attention.
Last week Bobbitt earned himself a Bafta nomination, and on Thursday he'll learn if he'll be off to the Oscars too.
The film stars Chiwetel Ejiofor as Solomon Northup, a free black man from New York, who is abducted and sold into slavery in Louisiana in 1841.
"As we were shooting 12 Years there was a feeling that we were doing something a bit different," says Bobbitt, who is based in Britain, when we meet ahead of the film's UK opening.
"It has certainly gotten people speaking and is developing a life far greater than anything we could have possibly imagined."
Bobbitt has worked with the Turner Prize-winning Steve McQueen for some 13 years. He started out on McQueen's art installations and short films, and was director of photography on feature films Hunger and Shame.
On 12 Years a Slave, McQueen and Bobbitt took the key decision to "keep it simple".
"We didn't need any trickery because we had the story," he says. "The audience never knows what's going to happen. They are with Solomon Northup and see it as he sees it.
"It's not a documentary, or a gritty drama, and the reality is that Louisiana is a beautiful place. We didn't want to deny that. And we embrace that as part of the film.
"If we didn't have those moments of natural beauty then the film would be unrelenting and people wouldn't stay with it."
Here, Bobbitt talks through two scenes from the film that audiences and critics have found most uncomfortable to watch. (The following interview may contain spoilers for people who have not seen the movie).
THE HANGING SCENE
After Solomon Northup (Ejiofor) attacks a slave master (Paul Dano) he is punished by being hung from a tree with his toes just touching the ground to prevent him from being strangled entirely. As he hangs all day, the other slaves go about their work as if nothing unusual is happening.
Sean Bobbitt: When I first read the script, that was, to me, the pivotal scene because of where it comes in the film and also because of what it says.
It really drives home the fact that he belongs to someone else. No-one else can touch him. His fate is in the hand of another man [a slave owner played by Benedict Cumberbatch].
His life was not his own. That was the first beat of it. The second beat was that life goes on around him. That this is not unusual. Everyone has been so oppressed and hardened by the violence that they pay no attention to it. They know if they try to do anything they might themselves be visited by the violence.
Those two points epitomise the horror of slavery and as such it was important to get that scene to work absolutely. And so Steve and I spent lot of time finding the exact location.
The length of the shot is determined in the edit, but part of the idea was to make the audience feel what it's like to hang from a tree for a whole day. Although the shots seem excruciatingly long they are not really. It's just the context and the circumstance.
We are uncomfortable because the camera does not look away.
If you look at Steve's early installation work, it's a theme that you see, it's something that he has brought into the world of drama.
What I've heard is that people actually start to crane their neck up and to breathe in shallow breaths. Other people just turn away.
THE FLOGGING SCENE
Cruel slave owner Edwin Epps (Michael Fassbender) forces Northup to lash his fellow slave and friend Patsey (Lupita Nyong'o) as punishment for leaving the plantation to find soap.
Sean Bobbitt: From the beginning that was going to be a single shot.
Watching the slave girl played by Lupita Nyong'o shriek and sob as her back is torn to shreds by the whip, and watching the powerless Ejiofor experience absolute horror as he faces a raw theft of his free will, rubs our noses in that shame.
If you look at the film Hunger there's a scene in the H Block where some prisoners are being beaten up. It's one continuous shot and we learned from that that if you do not put a cut in an action sequence, particularly a scene of extreme violence, then the audience is not subconsciously reminded that they are watching a film.
There's no escape - you are drawn further and further into the event because at no point are you being told 'this isn't real'. That has the effect of heightening the emotional impact quite dramatically.
This is a key scene of the film, the point where we think Solomon will break and his dignity and honour will simply fall apart. There are remarkable performances from everyone.
We rehearsed it for about half a day and then went straight into it. I think we only did three takes.
There is an element of CG [computer graphics] because we haven't got a cut when we turn to look at Patsey's back.
The fact that we wait and we wait and then it's just one quick glance of the horror of the physical deformation that's happening and then back is much more effective then dwelling upon it.
12 Years a Slave is out now.