Seal drama Lone Survivor shoots to top of US film chart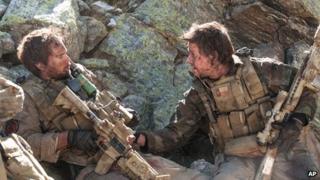 Navy Seal drama Lone Survivor has topped the North American box office chart after taking $38.5 million (£23.5m) in its opening weekend.
Starring Mark Wahlberg, Ben Foster and Emile Hirsch, the fact-based film tells of a dangerous mission that took place in Afghanistan in 2005.
Nikki Rocco, of distributor Universal, said it was "amazing result".
The film had been tipped to make no more than $28m (£17.1m) on its debut by box office tracker Rentrak.
The launch is the second biggest opening for a film in January, after the $40.1m (£24.5m) debut that sci-fi film Cloverfield enjoyed in 2008.
Disney's Frozen, which won best animated feature at the Golden Globes on Sunday, slipped to number two with weekend takings of $15m (£9.1m).
That figure brought its North American total to $317m (£193m), surpassing the previous record for a Disney animation - $312m (£190m) - set by The Lion King in 1994.
The Wolf of Wall Street, starring Leonardo DiCaprio and directed by Martin Scorsese, was at number three with takings of $9m (£5.5m).
New entry The Legend of Hercules tied for fourth place with David O Russell's American Hustle, which won three Golden Globes on Sunday.
Based on the myth of the legendary Greek hero, Renny Harlin's action fantasy sees Twilight star Kellan Lutz take on a role previously played on screen by Steve Reeves and Arnold Schwarzenegger.